Sears Canada: 50% Off Fuzzy Dice Ottoman - Now $24.94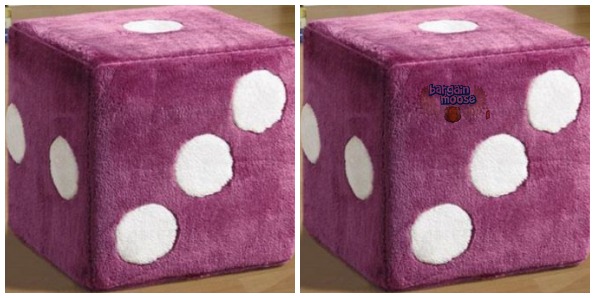 Sears Outlet Canada is selling a fun and funky Fuzzy Dice Ottoman which is perfect for accessorizing the kids' playroom or bedroom. Originally $49.99, the fuzzy dice are now on sale for $24.94.
The dice is sold out in b/w and g/w but is still available in fuchsia. The dice is made of a polyester-acrylic fabric and is 15 1⁄2" cube (same dimensions on all sides). Perfect for the wee ones to chuck around, run into, push around, or sit on.
You can also use the cube to play games. Any game that requires a roll of a dice could be made more entertaining by the throw of the fuzzy ottoman. That would be for bigger kids though. There is also educational value: did you know that the opposite sides on a dice always add up to 7?
I suggest getting this ottoman sent to your local store for pickup. Handling charges would be about $4. Shipping starts at $7.95 if you want it delivered to your home.
(Expiry: Unknown)