Sears Canada: 20% Off On All Brands Of Selected Major Appliances Until July 5th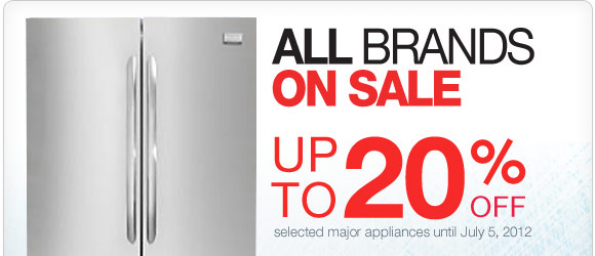 Sears Canada has a sale on all brands of select major appliances. Save up to 20% on all brands until July 5th 2012 (although website shows June 28th on individual items).
Another appliance sale at Sears, but with much more to chose from. They have all their appliances on sale and some at very good prices.
Check these appliance categories:
I suppose you can get a little tired of looking at appliances, but if they are something you're shopping for, you want to take your time and get what you want for the right price. After all, you won't be replacing them again for a very long time.
I compared this Electrolux Professional 23 cu ft. refridgerator, on sale for $3699.99, regular price $3899.99 to a similar refrigerator, ( a little smaller) at the Brick, listed at $3799.97. I like to compare items to make sure that the sale is actually a sale. The features on this fridge are incredible, especially the ice maker/dispenser! It is also important to make sure the warranty is acceptable and in my opinion, this one seems to be very good.
The stove that caught my eye was this Electrolux 30" IQ Touch Convection Electric Range, priced at $2299.99, regular price $2499.99. As you can see, I like Electrolux brands and absolutely love the stainless steel look. I also found this at The Brick for $2549.97.
Now, what about the dishwasher, like this Electrolux 24" Built-in dishwasher, listed at $499.99, regular price, $549.99. There is also a ton of washers and dryers to chose from, I can't even decide which ones I prefer and some of the sale prices are awesome.
This sale also includes vacuums, like this Bissell Cleanview Helix Deluxe, on sale for $99.99, regular price $149.99. I really don't get too excited about vacuums, I prefer the appliances that stay in one spot and do their job.
Shipping: Varies on product and location, see home delivery options.
Expiry: (5th July 2012)