Sears Canada ($20 Off $150) + Drivethrus!
I thought this was a pretty decent online coupon code for Sears Canada.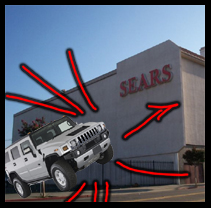 [blogcoupon name="Sears" code="941612241" url="sears.ca" discount="$20 off $150 Womens Wear, Mens wear, Kids Wear, & Footwear. (Excludes items with prices ending in .97)" expiry=" 9th February 2009"]
As you can see, it only applies to selected items… but great if you were planning on buying some of these things anyway.
I spotted an interesting blog post on freedyourmind about Sears Drive-Thrus! Apparently, Sears are going to being doing a test at one location. I think this is a great idea for shopping online and picking up purchases in-store. I'd use it! As some of the shipping charges from Canadian online stores can be pretty nasty, the collect-at-store option is a great one. It would be even nicer not to have to hunt for a parking space, brave the outdoors weather, tackle the in-store customers and salespeople, and to just drive up and collect your goods.
Happy shopping!