Sears Canada: 1 Cent Event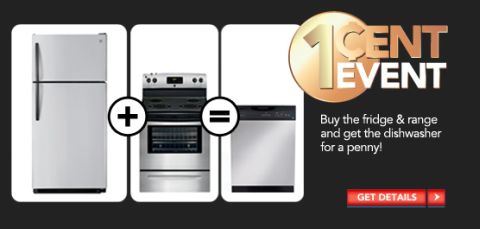 Sears Canada is offering two 1 cent promotions until the 16th of January 2011. Buy a fridge and stove and get a dishwasher for 1 cent!   Or you can upgrade select appliances to a stainless steel finish for 1 cent.
The kitchen package included in the promotion has Kenmore/MD 18.2 cu ft Top Mount Fridge, 30" Electric Smoothtop Range, and a 24" Built-in Dishwasher, all in Ultra Silver Steel finish. If I had known how much time I was going to spend wiping fingerprints off my stainless steel appliances, I probably would have gone for the Ultra Silver Steel finish. I've heard that it is much more fingerprint resistant than stainless steel.
If you are just looking for a single appliance and want a stainless steel finish, Sears is offering an upgrade to stainless steel for just 1 cent. The upgrade to stainless steel would usually be $100s, so some great savings there!
An extra bonus is available if you use your Sears Card or Sears Mastercard. You can also get a $65 mail in delivery rebate.