Sears.ca Estee Lauder Free Gift With Purchase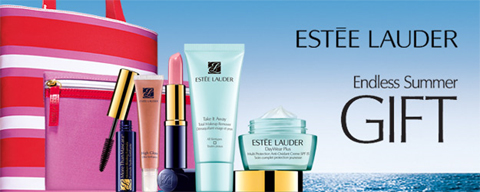 If you like the Estée Lauder cosmetics brand, check out this offer from Sears.ca. Spend $38.50 or more on any Estée Lauder Skincare or Foundation, and get a free endless summer gift!
The gift includes:
DayWear Creme SPF 15 - 15 mL
Pure Color Lipstick - Pink Parfait - 3.6 g
High Gloss - Rose - 7 mL
Take It Away Total Makeup Remover - 50 mL
More Than Mascara - Black - 2.8 mL
Striped Canvas Bag
Coordinating Companion Bag
I think I will be making a purchase. I was visiting family the other day, and needed to wear some make-up for a party later, but I had forgotten to bring any with me. My little sister did my make-up, using an Estée Lauder foundation which I had never used before - it was the Double Wear foundation. The results were fab, the foundation stayed on all day long! I am going to buy some now... though I have never spent so much on a bottle of foundation.