Samsonite Tribute 2 Piece Luggage Set Only $145 @ Hudson's Bay TODAY Only (Save 65% Plus Coupon Stacking!) EXPIRED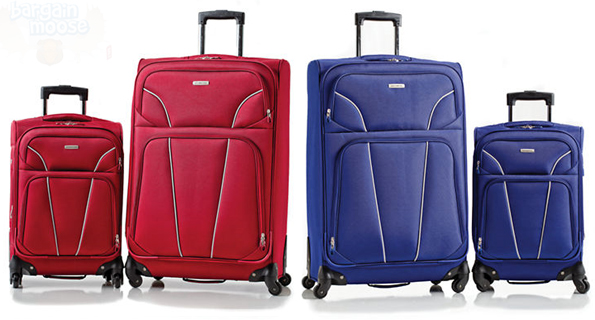 For one day only, there's a sale happening online at the Hudson's Bay online store for a two piece luggage set called the Samsonite Tribute. The deal is priced at 65% off, with the final price for this top-brand name set coming in at $185 with free shipping! BUT you should be able to stack a few coupon codes to get a better price - only $145! Remember I wrote about it in this post - well the double coupon codes still seem to be working!
Use the Hudson's Bay coupon codes SAV0702 and SAV0701 to get an extra $40 discount on the marked price. Here's a screenshot of what I see: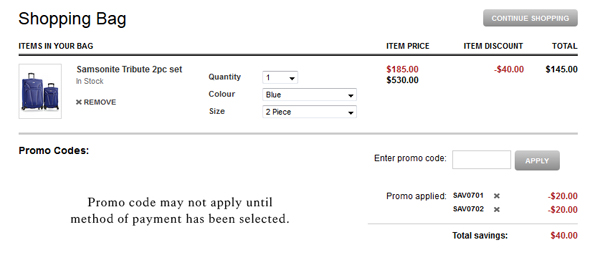 The Samsonite Tribute luggage set consists of these two pieces:
20" expandable spinner
29" expandable spinner
You've got a choice of colours too; blue, red and grey. I'm partial to the red finish, myself.
It's also good to see that these luggage pieces come with a 10 year warranty from Samsonite. I think their 10 year warranty is fantastic. Giving such a long warranty really means that this company stands by its products. Samsonite cases are durable and excellent quality anyway, so having that 10 year guarantee is just a little bit of extra peace of mind.
You definitely pay a bit more for Samsonite branded cases than you would for other non-branded luggage, but I think it's worth it. I am a big fan of Samsonite, I've actually got three pieces of luggage from this brand. I've got some hard-sided cases which I always use when I am travelling… but sometimes they are in use for more than travelling! Last week, my brother-in-law and his family were moving house - you know that last minute rush to get everything in the van, just as the movers are there? Well, my Samsonite luggage had to come out of the garage and go to their place, and the cases are currently being used to store some excess clothing as they just didn't have enough boxes!
Luggage set deals from The Bay are very common, I often see this type of flash sale. However, I am choosing to write up this particular offer as I think it's a very good deal indeed.
(Expires 27th August 2014)