One Day Only @ The Bay Canada: Tommy Hilfiger Polo Shirts or Shorts For $24.99! (Expired)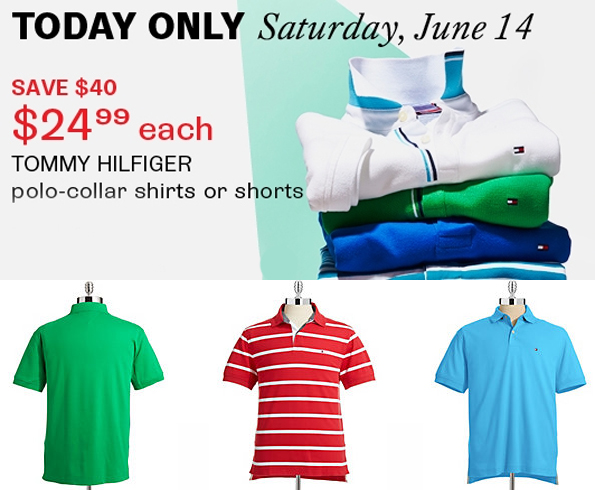 Today only, this Saturday the 14th of June 2014, you can pick up certain Tommy Hilfiger polo shirts and shorts for only $24.99 @ The Bay's online store.
The Tommy Hilfiger range is a very popular and stylish brand of clothing, so these should be a very popular deal. From what I can see online, most of the polo shirts and shorts were $65 and they're now down to only $24.99. There aren't a huge number of colours and styles to choose from in this promotion, so you can have a look and see if there's any that suit you, or perhaps your partner.
To be honest, there are only actually two styles of polo shirt, but it comes in 15 different colour schemes. I like the green colour (envy) in the TOMMY HILFIGER Eastport Contrast Placket Polo, though I think my partner would prefer the Tommy Black. You can choose from five other colours in that one too.
I can see that there are eight different colours to choose from in the range of Tommy Hilfiger shorts, from either the Academy Plaid Shorts or the Back Country Cargo Shorts. The latter are a staple item in my partner's summer wardrobe, he has a couple of pairs of shorts in this style.  He'd wear them for anything, from gardening to BBQing.
While there is a friends and family event happening this weekend at The Bay allowing you to save up to an extra 20% on some merchandise, there's no extra discount on these Tommy Hilfiger items, they're the final price.
If you're placing your order online, you'd have to spend $99 or more to get free shipping to your home, which I am sure wouldn't be a bother. You could add a few more items to your cart to top it up to that level… For example, there's also 50% off men's dress shirts here, if you need something a little more fancy for your wardrobe.
(Expiry 14th June 2014)