Stork Craft Nursery Dressers $130 Delivered @ Best Buy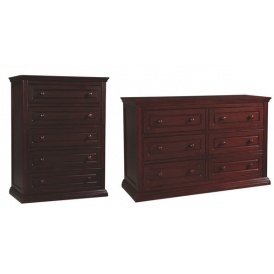 Bump! These dressers are back in stock - but they may not last long!! This may be a case of pricing error but right now, Best Buy has a selection of Stork Craft Concord 5- and 6-drawer dressers on sale for $520-$570 off at just $129.99.
The traditional solid wood Concord dresser is available in a tall, 5-drawer design or a double 6-drawer design and in a few different wood finishes, including espresso, cherry and a light dove brown.
These big dressers will last kids far beyond the baby nursery years. The drawers are large and spacious and glide open and shut easily. They promise assembly is easy with no need for a hammer and no nails. The parts click and lock together with a new hardware technology called Tufflink.
As has been in the news with recalls and such lately, the dressers meet all safety and anti-tipping standards but it never hurts to still affix these things to the wall.
If this is an error in the online price, you'll want to get your order in quickly before Best Buy figures out about their boo-boo! The dressers will ship for free, too!
(Expires: 21st April 2016)