New Years Savings of up to 20% Off Your Purchase @ Ikea Canada Online Today (EXPIRED)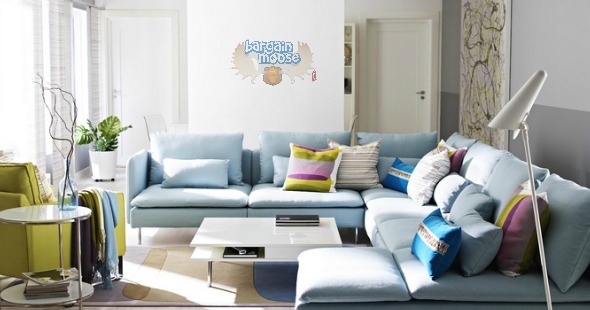 Cheers to an amazing deal from IKEA Canada. For New Years day, you can shop at IKEA online and save up to 20% off your purchase. With this promotion, the more you spend at IKEA online, the more you save. This is your opportunity to get some additional savings at IKEA, or purchase a regular priced item you have had your eyes on for a while.
This IKEA Canada offer is valid today for New Years. This deal is also only available online, which works out well. Shopping from my computer in the comfort of my home sounds a lot better than driving around on New Years day.
Save 10% off your purchase of $200 or more
Save 15% off your purchase of $300 or more
Save 20% off your purchase of $400 or more
There is no hassle of entering a coupon code either, just add your items to your cart to get the savings. I tested this offer, and it can be combined with sales offers too! I added the SOLSTA Sofa Bed to my cart. It is on sale for $199.00. To get the 10% discount, I added the LACK Side Table to my cart which is on sale for $9.99. After receiving the New Years savings, the SOLSTA Sofa Bed ended up being just $179.10 and the LACK Table will cost just $8.99.
This would also be a great chance to pick up items that rarely go on sale. The MAMMUT Children's furniture is super cute. I was thinking of getting a small table and a couple chairs for my son's room. These would make great tables for colouring, crafts and other activities that you don't want on the carpet. The MAMMUT Children's Stools are only $7.99 each, but if you are looking for a little more stability for your little one, I would get the MAMMUT Children's Chairs for $14.99 each. You could also go for a sales item in this department too. The UTTER Children's Table with 2 Stools is just $16.99 right now. For durability and quality, I would pick the MAMMUT furniture over the UTTER furniture, but of course it depends on what your needs are.
The biggest downfall to this offer is the shipping rates. Home Delivery will cost you $99.00. Of course most of the IKEA items are of larger size, so it really beats trying to find a car of a big enough size to pick it up yourself. I think to get the best benefit of this sale, it would make sense to spend as much as you can to make the $99 shipping worth it. If you spend $400 and save 20% off, you will be saving $80. My suggestion would be to spend $400 on sale items to get the best discounts combined with your 20% off.
(Expiry: 1st January 2015)