Nancy B's Science Club Aquascope Was $35 | Now $17 @ Walmart.ca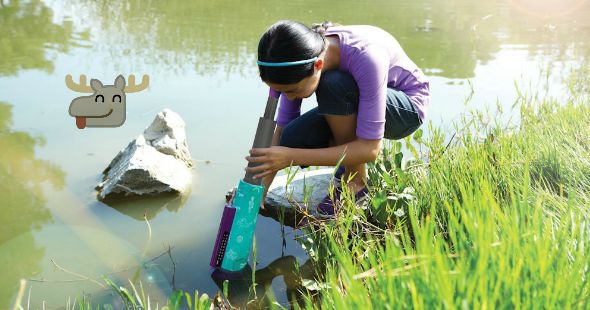 Several months ago I found the Nancy B's Telescope on sale at Walmart.ca, and my son just adores it. Now I have discovered this Nancy B's Science Club Aquascope on clearance sale and I just had to share it. This aquascope was originally $34.86, but it is on clearance sale at Walmart.ca right now for just $17. Walmart Canada has a few different shipping options available.
If your child loves water, then they will probably love their new underwater experiences with the Nancy B's Science Club Aquascope. For just $17 (regular $34.86) your child can explore the mysteries of water. This item is still selling for $25 in stores, so your best bet is to order online and choose one of the shipping options available through Walmart.ca.This is the lowest price around on this educational toy, just take a look at what other retailers have this item listed for:
$34.99 @ Amazon.ca
$34.99 @ ToysRUs.ca
$39.99 @ EducationalInsights.com
The Nancy B's Science Club Aquascope is both fun and educational, which makes for a great combination. Even parents will love getting involved and helping their child explore with this aquascope. The Nancy B's Science Club Aquascope has 5x magnification and a build in LED flashlight. With the flashlight your child can explore even the murkiest waters. I can't wait to bring this down to the creek on the family farm and see if I can actually find leeches! Oh, the great part is that this aquascope can expand to almost two feet. So that means that my toddler and I can explore for leeches in the foggy water without actually getting into the water.
There is even an Underwater Activity Journal included so that you and your kiddo can document all your findings. Pretty nifty, right? While this item is best suited for children ages 9 to 12, I am quite confident that even younger children can enjoy the Nancy B's Aquascope with the help of their parents. Actually, the one review on Walmart.ca says that the customer bought two of these Nancy B's Science Club Aquascopes for her 7 year old twins and they were able to enjoy it.
Walmart.ca has a few different shipping options as well. If you spend over $50 then you will get free delivery to your home. Otherwise you can opt for free shipping to your closest Canada Post Office or if you have the Grab & Go Lockers at your local Walmart then that option is free as well.
(Expiry: Unknown)