Mastercraft 14" Aggressive HandSaw only $3 In-Store @ Canadian Tire!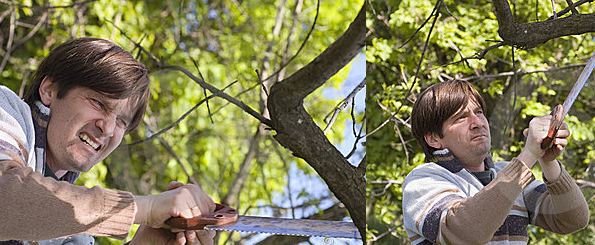 Tools! Pointy tools! Pointy spiky tools! Pointy spiky aggressive tools!
There's a deal on in-store at Canadian Tire just now, for this Mastercraft 14" Aggressive HandSaw. It's been reduced by 75% from $12.19, down to only $3! That's very inexpensive indeed, especially for a big brand name.
In the past, I've noticed this particular saw for $3.99, but never as low as the $3 mark.
On the Canadian Tire site above, you can use their online stock checker to see if there are any of these Mastercraft saws available at a location near to your home. Now, it's probably not worth driving to your local Canadian Tire just to get a three dollar saw, but it might be an excuse to make the trip if you had a plan to do so anyway.
I had a quick scan of the reviews on the Canadian Tire website and they seem positive, as you might imagine. With an overall rating of 4.6 out of 5, with such comments as:
Does an excellent job -ripping though the cut with fast work. Great tool!
Here are a few points about this saw:
Ergonomic  2 component soft-grip & non-slip handle
Ideal for a fast cut
Blade coated with water-based lacquer providing rust protection
Apparently this Mastercraft saw has "Aggressive toothing," I have no idea what this means.  I did have to google, and all I could find were articles about aggressive puppies… not quite what I was searching for. If you know what that means, tell me in the comment below!
My other half has a growing collection of saws in the man-cave/garage… so I'm definitely not going to tell him about the deal on this one. I am not sure why he needs quite so many saws in his collection. I understand that there are different saws for different jobs, but surely you can try and make do with the tools that you have, without resorting to buying a new saw for each and every new job to be undertaken. Unless the saws are magically reproducing of their own accord…
P.S. The image I have used above is not the exact image of this particular Mastercraft saw, but a stock image from elsewhere. The one on the left illustrates a "man sawing a branch with zeal." That caption made me chuckle!
(Expiry unknown)