Lowes Canada: Swing & Slide Set Only $283.50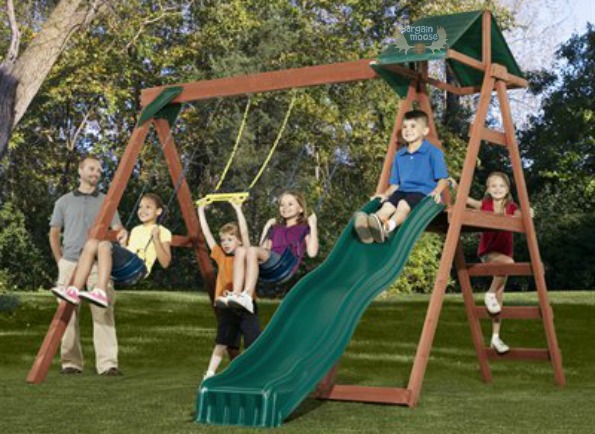 If you are looking out your window and seeing four feet of snow you might wonder why I'd be blogging a swing set in January. I'll tell you why. January is the best time to buy swing sets since you can get one for such a great price and you'll also be voted parent of the year being so prepared come spring. This Mckinley residential wood playset with swings and slide is only $283.50 and was $378.
I bought a set almost exactly like this when my oldest was 2. We bought it in March, which is only two short months away, so you might need this before you know it. It worked well for years and the kids didn't need anything more than a swing and slide. They used the top of the slide as a little makeshift fort, because no matter if you spend $300 or $1500, imagination is the key to them having fun on their playset. Personally, I'd much rather spend the $300 and have the other $1200 to spend on a summer vacation, but that's just me.
I'm going to say though, that as the kids get older (like age 7 or more), they might get a bit bored with a set this simple, so we just added a trampoline and it worked well as my youngest still likes the slide and swings.
This set is pre-stained and ready to assemble. It has a fast and easy bracket system that makes it a literal snap to put together. There are a few reviews with varying opinions, but one reviewer said it was easy to put together, even though they had a number of left over pieces.
Shipping is $75 by truck to my home, which is a good option if you don't have the capabilities to transport this item yourself. Your next best bet is to pick it up at the store for free. I like this idea since you've probably got a couple of months to wait for it to come in and it lets it be stored there until you are ready to pick up and install.
(Expiry: Unknown)