(EXPIRED) LinenSpa Premium Mattress Protector Now Just $23 (79% Off!) @ Amazon.ca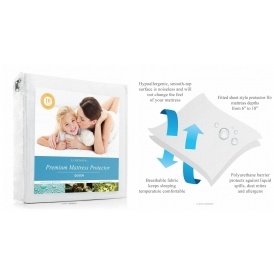 One of the biggest mistakes I've made in the recent years (not even kidding) is not purchasing a mattress protector for our brand new mattress set. With a child and a dog, our mattress has been through it all. Food, pee, you name it. If you've been lucky so far with your mattress, or you've just gotten a mattress and want to avoid a situation like mine, check out this LinenSpa Premium Mattress Protector on Amazon. Today only the queen size mattress protector is 79% off, down to only $23!
I can assure you that $23 for a mattress cover is a great deal. The main reason I didn't buy one when I purchased my mattress was because of the high price tag (over $200). I told myself I would get one later, but never got around to it. Here I am a year later, ready to buy a brand new mattress.
This particular mattress protector is 100% waterproof and hypoallergenic. All sizes of protectors are available, but the Queen size one happens to be the best deal. You can also get pillow covers, which are also on sale for over 50% off.
Shipping is free if you spend over $25 at Amazon. Depending on which size you choose, you might have to add your favorite household product to your order to reach that minimum purchase price!
(Expiry: February 22nd 2016)