Kobalt Sliding Compound Miter Saw Was $150 Now $100 (Potentially $90) @ Lowes.ca & Free Shipping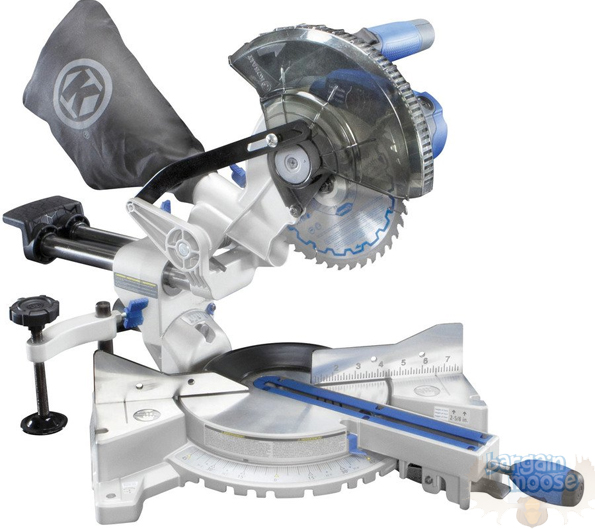 This weekend, there's a bit of a deal on this Kobalt 7 1/4-in 9-Amp Sliding Compound Miter Saw with Laser Guide, online @ Lowes Canada. Originally priced at $149, it's now only $99, and that's with free shipping too.
If you've never before shopped at Lowes.ca online, then you can make the above price even better. Sign up to the email newsletter there and they will email you a $10 coupon code for a $50 spend.  You need to use that coupon code within a week and it should work on the above Kobalt saw.
In case you were not aware, Kobalt is Lowes own brand of tools, so it's not really possible for me to price compare this exact model at any other Canadian online stores. I can show you similar branded items though, such as this Makita which is $550 on Amazon.ca! Another Makita is $712 here on BlackRockTools. There's a cheaper Ryobi for $141 here on HomeDepot, that's probably more along the lines of this Kobalt model.
Obviously for this price, you're not going to get a heavy duty machine capable of working day in, day out, on construction sites… but for basic home DIY use, this might do the job. It's a 7 and a quarter inch blade, so it's not a huge saw for any large cutting jobs. You can get miter saws with larger blade capabilities, but obviously you'd be paying more for bigger and better models.
There are 96 reviews on this particular saw on the Lowes website, with exactly half of them giving this Kobalt miter saw a 5 star rating. The top review from Chris states this:
I built a deck this summer and solely used this saw for it. It had no issues cutting 4x4s, 2x6s and deck boards.
That sounds ideal! I would love my partner to build us a deck in the garden. If only…
On the whole, the reviews on this particular unit are very positive, and it seems ideal for home use... regardless if it looks like something out of Robot Wars.
(Expiry 3rd September 2014)