KitchenAid Classic Plus Stand Mixer Only $199.95 @ The Bay Today Only (Half Price!)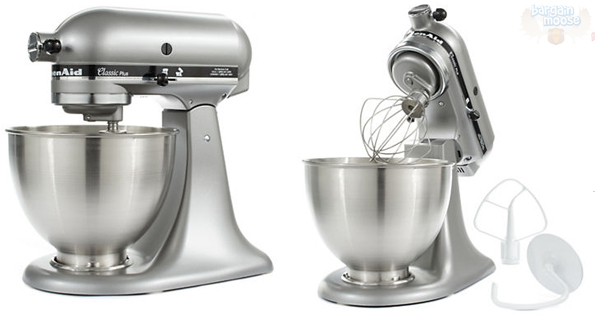 Flash sale! For one day only, you can buy a Kitchenaid Classic Plus Stand Mixer for only $199.95 with free shipping at The Bay Canada – only at the online store! Regularly priced at $399.95, that's a $200 discount. Here are all the details:
When I have seen flash sales like this in the past from The Bay, sometimes they run out of stock through the day. So if you are interested, I'd purchase sooner rather than later.
These Kitchenaid stand mixers are something we write about here on Bargainmoose quite often, they're a very popular sale item. As such, the prices tend to go up and down a lot. However, between $180 & $200 is the lowest I've usually seen them drop to. I've only ever seen this model drop this low in price in flash sales.
In price comparing this particular model, I can see it selling for $400 @ Amazon, $480 @ LondonDrugs, $400 @ CanadianTire, $400 @ Sears – therefore it's an excellent price from The Bay.
As you're getting free shipping anyway, have a browse round The Bay's site and see if there's anything else you want to pop in to your cart. There is up to 70% in the final summer clearance, you can check out the men's or women's sections here.
I would love one of these beautiful stand mixers in my kitchen, but I really don't have the available countertop space. I'd want to display it there, I wouldn't put it away in a cupboard. I'd also probably make use of it a few times a month… we do baking almost every weekend in this house. It's a great form of entertainment for my four year old daughter, and I try and get her to do almost everything herself (apart from putting things in the hot oven). She loves stirring and mixing, getting covered in flour and icing sugar, and inevitably licking the bowl encrusted with some sort of sweet chocolaty goo!
(Expires 6th August 2014)