KitchenAid Architect Stand Mixer w/ Glass Bowl Was $600 | Now $259 & Free Shipping @ Sears Outlet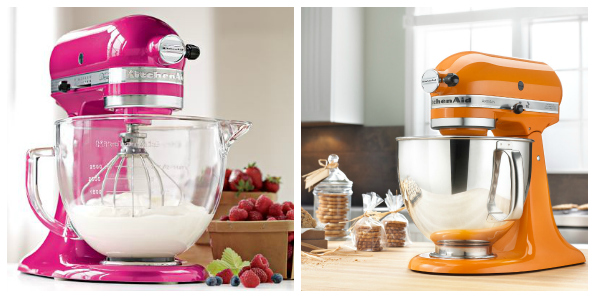 Check out this sweet deal on a sexy KitchenAid 10-Speed Stand Mixer With Glass Bowl. This is the Architect line as customer service provided model number KSM150AGBRI for the unit. This stand mixer comes in raspberry ice, which is a gorgeous vibrant pink that borders on purple. Originally $599.99, this stand mixer is on clearance for $369.94 at the Sears Outlet. Use coupon code 941612546 to receive an extra 30% off this mixer, thus bringing it down to $258.96 with free shipping.
This deal is hot for all sorts of reasons. First, this price is lower than ANY Architect stand mixer currently sold at Hudson's Bay or Amazon Canada. It is the cheapest price for an Architect Stand Mixer that I can find at this time. Second, there is a possibility that this unit also qualifies for the $50 rebate via KitchenAid. This would depend on the exact model number of the stand mixer you receive, but the rebate offer does mention KSM150AG models.
This is also a really hot deal because this stand mixer comes with the glass bowl, a rare and highly valued bowl that is usually not included. it replaces the simple metal bowl and allows you to see all the contents while mixing. it also has measurements embedded in the glass. The stand mixer also comes with a burnished dough hook, flat beater, and stainless steel wire whip.
There is a second option if this stand mixer sells out. The KitchenAid Artisan Stand Mixer - Tangerine is on sale from $549.99 down to $384.94. After coupon code, pay just $269.46. This is the Artisan line rather than the Architect series. I have this stand mixer in purple and it is just darling - it works wonderfully on cookie dough, cake batter, pizza dough, and more. This stand mixer might also qualify for the $50 rebate, but I cannot be sure. This same stand mixer is currentl $384.94 @ Amazon.
Both of these are quite good deals given that they are the higher end lines that KitchenAid makes. While we have seen the odd stand mixer below the $200 mark, they tend to be the lower end / older mixers. $20 to $270 is an excellent deal for the Architect and Artisan lines. With the chance of an additional rebate, these deals are golden.
(Expiry: 3rd January 2016)