KitchenAid 17pc Tool & Gadget Set Was $70 | Now $30 @ Sears.ca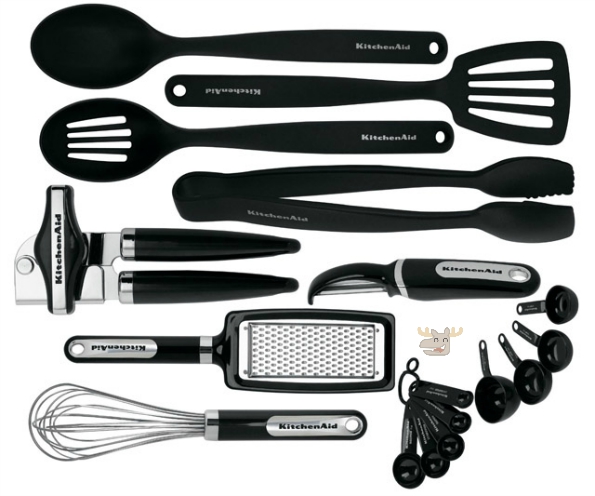 I think I had a heart attack when I laid eyes on this KitchenAid 17-Piece Tool & Gadget Set on sale at Sears Canada. Originally $69.99, the kitchen utensil set is now on sale for $29.99. You can even receive free shipping to your local Sears Outlet – there are over 1300 across Canada.
This set comes complete with: slot turner, bast spoon, slot spoon, nylon tongs, flat grater, euro peeler, can opener, utility whisk, set of (4) four measuring cups, and a set of (5) five measuring spoons. That comes up to 17-pieces in total and it really sets your entire kitchen up with everything it needs (outside of knives). The same set currently retails for:
Those are both sale prices as the original price for this set at amazon and Hudson's Bay was over $70. Yet, Sears Canada's price is nearly half that.
I own a KitchenAid can opener just like this one and it has served me well over several years. The whisk also looks to be pretty nice, but I would prefer silicone coated. A set of measuring spoons and a set of measuring cups are imperative in any kitchen even if you are not a baker. Some things just need to be measured out when cooking (water, spices, etc.). I really need to get a pair of tongs for handling some foods that I tend to pick up with my fingers instead (like cooking hot dogs... bad idea). I tend to burn myself a lot.
The peeler included is the euro style with the blade on the side. I own one of these but it is now my least favourite style as it seems to not peel as well as the other design. This might just be a personal preference.
Either way, you are forking over just $30 for 17 tools, utensils, and gadgets for your kitchen. If you buy a set for you and a set for a friend, then use the Sears coupon code 941612468 to take $10 off orders of $50.
(Expiry: 23rd September 2015)