Ikea Canada: Buy 3 Dining Chairs & Get One Free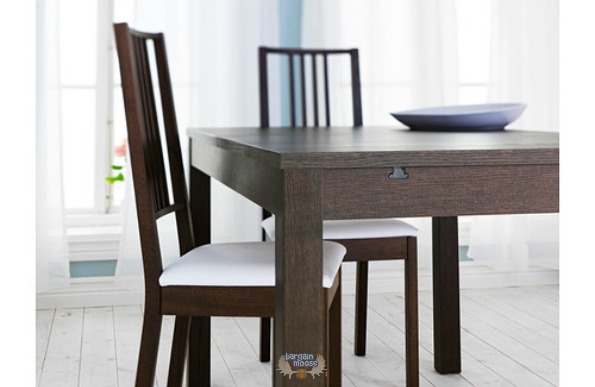 Ikea has a great sale on dining chairs right now, where if you buy three, you get the fourth free. Buy six, get the seventh and eighth free and so on.
I have to say, this sale came at the most absolute perfect time for me. My husband built us a gorgeous farmhouse style wood table for our kitchen. The chairs we have go with the old table, so all will have to go and now we need chairs. To my chagrin, dining chairs are really expensive! I've searched high and lo and found the perfect ones at Ikea, just in time for this sale! Ikea does have really great prices on chairs, even though you have to put them together. I've searched Homesense, The Brick, Sears, Urban Barn and more and found that Ikea's prices beat them all. Most chairs are at least $100 each and Ikea has them as low as $10!
The ones I love the most are these white Ingolf chairs with an X style back. I need something with no fabric as the kids spill often. White might not be the best choice for us, as you'll see every fingerprint, but we were thinking of having two white chairs for my husband and I and then having these dark Kaustby chairs for the kids. My husband already went to pick up at our local store and they were sold out, so we are going to have to order online! Even better, the Ingolf chairs are on sale from $69.99, down to $59.99. The Kaustby chairs are only $49.99.
Shipping is usually pretty steep from Ikea, but I added four chairs to my cart and it only came to $25. That is worth the cost of gas depending where you live and you won't spend your money on all the other trinkets you see in-store.
(Expiry: 14th April 2014)