Ikea Canada: 25% Off Shipping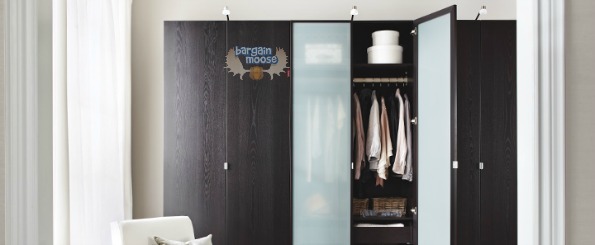 If you haven't ordered from Ikea before because the shipping is too much, you might change your mind for now. Ikea has a deal on right now with 25% off shipping.
I know friends who live in my area who make going to Ikea a special trip. And it is. I love spending half a day walking through their store. What I don't love is spending the gas to get there or wasting the time, when I need something soon-ish. If you know what you want and just want it brought to your home, this Ikea sale is a good one.
Coincidentally, there is also a sale on Pax wardrobes, which are amazing closet systems and make me swoon. Pax wardrobes and all Komplement interiors are 15% off.
Ikea says the shipping discount will automatically be applied when you calculate shipping. When I calculated the shipping to my house on a Pax wardrobe, it totalled $149, so I'm going to assume it was $200 before the shipping discount. That's a $50 savings and although it still means spending $150 to get whatever item to my house, if I don't have a truck, I would need it shipped anyway. Also, by the time I pay for gas, the shipping cost is not really that much more. Smaller items will have cheaper shipping, which will still be 25% off.
(Expiry: 30th September 2013)