Hudson's Bay: ROYAL ALBERT New Country Roses 3-pc Set Was $255 | Now $112.50 (EXPIRED)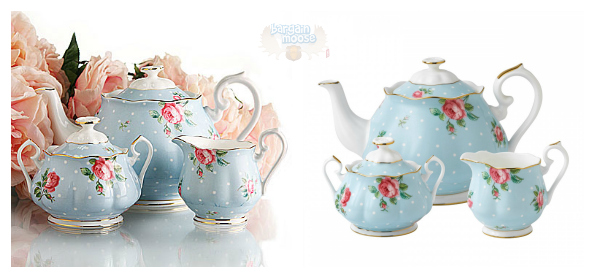 Hudson's Bay Canada has discounted this beautiful ROYAL ALBERT New Country Roses 3-piece Tea Set from $255 down to $127.50. With The Bay coupon code HOME1, you will receive $15 off $100. That brings this tea set down to $112.50 with free shipping (as the set costs over $99).
While the title on Hudson's bay website says "white", the tea set you are purchasing is the blue set shown in the picture (and shown above). This is a beautiful set with white polka dots and country roses. It is a fresh take on the old country rose design.
I attempted to price compare this set, but it was hard to find it Canada. I found the white version on sale for $169.99 at Bed, Bath, & Beyond Canada. I also consulted Royal Albert website (US) where the blue set was $215 and is now $149.99 US (but out of stock). Given that Royal Albert ships in from the USA, you would be looking at duty charges as well.
I always liked tea sets - perhaps it is because I drink a lot of tea. This set comes complete with a teapot, covered sugar bowl, and creamer. This tea set is made of fine bone china. It combines the classic motif of the country rose with vibrant colours, fun polka dots, and that classic gold rim. I think this is an adorable little tea set! I especially like polka dots - so the white dots on the blue china are a favourite feature of mine.
Now, this teapot qualifies for free shipping as it costs over $99. I noticed that HBC shows shipping charges ($11.98) until you get to the last stage of checkout. On that last page, you will notice that the charges are gone and the shipping is now listed as free. Do not fret at the initial stages when shipping is still showing up - it will be removed by time you pay.
While tea sets do not see relevant in today's fast-paced work of K-cups and brewers, I think they are a great way to bring class to your kitchen and remind us to slow down. Drinking tea is not a race - it never has been. It is a way to relax, put up your feet, and clear your mind. I think this cute little teapot and matching accessories helps make tea time a special time.
(Expiry: 24th March 2015)