Hudson's Bay Canada: Hudson Bay Totes Were $15 | Now $7 + Shipping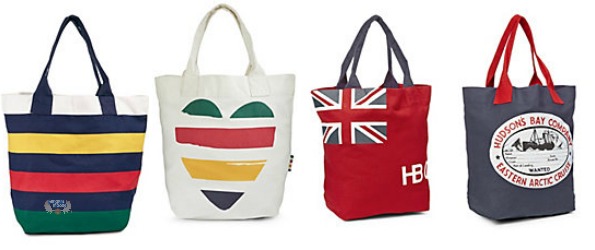 It seems that Hudson's Bay is wildly popular lately and their HBC collection is just as popular. Everyone wants that iconic Canadian look in their homes, cottages and wardrobe. Right now Hudson's Bay has all of their HBC totes on sale from $15, now down to $7. They all have fantastic reviews as well.
With beach season coming up, these are perfect for toting to the pool or beach with your HBC towel, sunscreen, water bottle and a book. The bags look large and durable on top of stylish.
The Hudson's Bay Company canvas tote bag is billed as a must-have. It is the traditional blue, white, yellow, red and green stripes and is just so classic. With 4.1 stars out of five based on 14 reviews, that says a lot. I love what this reviewer does with the bag:
This tote was so reasonably priced, I am going to use it as a gift bag so that tote itself becomes an extra bonus added to my gift giving. It has wonderful classic HBC colours.
I actually bought a gift bag the other day at the last minute and wasn't prepared for the cost of $7 for the paper bag that would inevitably get thrown away. Something like this is a much nicer and just as affordable way of giving a gift!
Something completely different from the traditional, but just as patriotic and stylish is the HBC Fort York canvas tote. You can get it in black or white.
I am in love with this vintage canvas tote. It doesn't have that traditional look, but more of a mysterious one that will have people wondering where you got it and what the story is behind it.
Hudson's Bay does offer free shipping once you've spent $99, so you might want to shop around their site, as there is their coveted Bay Days sale on right now. If you just want one tote, your shipping will be $5.95 (for orders under $50), which still makes your total price less than the regular price.
(Expiry: Unknown)