Hudson's Bay: 50% off Mikasa Flatware Sets (EXPIRED)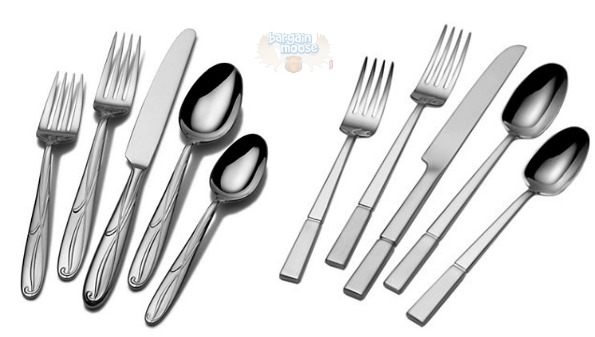 Are you looking to acquire a new set of silverware? Hudson's Bay Canada is offering 50% off various sizes and styles of Mikasa flatware sets.
The flatware are a bit scattered around so I will give you a link to each set on sale.
The Kya 5 Piece Flatware Set and the Calista 5 Piece Flatware Set are both on sale from $69.99 down to $35. Five-pieces give you a single place setting, which is good if you are single. Both are beautifully designed sets and include the standard two forks, two spoons, and a knife.
If you are more than one person, then the 20-piece sets are a more frugal option. A 20-piece set gives you four full place settings, which will handle the average family around the dining table. All three 20-piece sets below were $110 and are now $55.
These sets work out to $13.75 per setting, thus are a much better deal than the single settings above. I think these flatware sets are what an average family would need. However, there is a larger option for bigger families or those who like to entertain often.
Now, the 65-piece settings include service for 12 and a few utensils. You will receive one (1) each of the following utensils: tablespoon, pierced tablespoon, cold meat fork, butter knife, and sugar spoon. The Cocoa Blossom 65 piece Flatware Set is my favourite, as I just love the swirls on the handles. This would be a lovely set for entertaining. All Mikasa flatware is dishwasher safe to make clean up easy. Originally $299.99, the set is now on sale for $150. The Sinclair 65 Piece Flatware Set is another option that was also $299.99 and is now on sale for $150.
it is hard to calculate the value per setting as this flatware set comes with five utensils as well. However, treating the utensils as just another five-piece set, this set works out to approximately $11.54 per setting. Most indubitably, buying in bulk is better. However, if you are never going to need 12 place settings of flatware, it might be best to buy just a 20-piece set.
Hudson's Bay Canada offers free shipping on orders of $99 or more or on orders of $49 for HBC cardholders. Orders under the free shipping minimums start at $5.95 (for under $50) for shipping and go up from there.
(Expiry: Unknown)