Home Hardware Mail-In Rebates: Up To $335 Cashback!
Home Hardware Canada have released a special "mail in rebate" promotion, in which they are offering up to $335 in rebates if you buy particular items.
There are about 30 different sections in which the promo will apply, including some big name brands such as: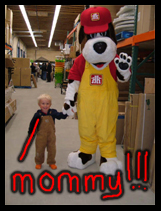 T-Fal
Cusinart
Henckels
Brita
Energizer
Dirt Devil
Rubbermaid
Conair
DeWalt
Stanley
Bissell
When you click through to the Home Hardware rebate page, just click the download link near the top. From the looks of the product list, there are a few things in there that I would buy anyway. For example, the Brita filters for my Brita jug, and the Energizer batteries, I might as well claim the $10 rebate.
I've never had a problem with mail-in rebates. Some people find them a bit risky… but if it's for products you would have been buying anyway, and you follow their exact terms and conditions, then you are almost guaranteed of getting your cash back.
Expires 31st January 2009. (Plenty of time to buy these things!)