Hamilton Beach Toaster Oven only $24 @ Walmart.ca

The toaster oven is one of my favourite appliances. Honestly. I could probably forgo a stove and my toaster if I just had a single burner and my toaster oven. Walmart Canada does not list the original price of this Hamilton Beach Toaster Oven, but it is now on rollback for $23.97. Receive free shipping to your local Canada Post location.
I could not find the model number of this toaster oven to properly compare, but the absolute cheapest toaster oven is a Hamilton Beach 4-slice oven like this one for $39.99 at Amazon. This is also the cheapest toaster oven on Walmart Canada as the next cheapest in stock toaster oven is $44.87. The discount is so good that this toaster oven is sold out at three of my four closest Walmart locations.
Many people may be buying up these toaster ovens for their kids when they send them off to university. Out of all the small appliances you can buy for a new house or a dorm room, the toaster oven is the most versatile. You can cook almost anything in it, which encourages you to eat more than ramen noodles.
One of my favourite people in the world uses his toaster oven all the time. He makes the best chicken you will ever taste in the toaster oven. Seriously, you can barely get it to your plate before it falls off the bones. Moist, soft, crispy skin, absolutely delicious.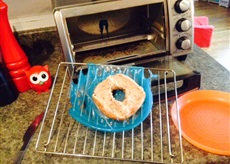 These are also great for families. My co-worker Kristy recently totalled her toaster oven by putting a plastic kids' plate in it - you can imagine how that turned out. Here is a picture:
She is the real reason I found this sweet deal from Walmart Canada. She mentioned that she was on the outlook for a toaster oven because of said accident, thus I went on the hunt for a reasonably priced replacement. When I found this deal at Walmart Canada, I could not resist sharing it with all of our Moosers.
I am not sure how long this deal will last, thus pick it up as soon as possible!
(Expiry: unknown)