Habitat Wall Art Applique By Wallpops Was $28 Now $19 & Free Shipping @ Walmart.ca (EXPIRED)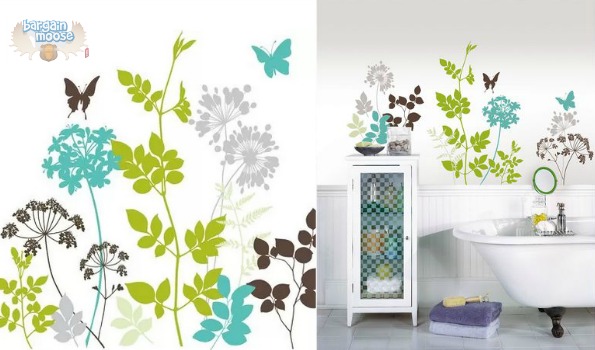 I love to give a little pop of colour to my home. Check out these Wallpops repositionable appliques @ Walmart.ca. These appliques were $28.72 but is now only $19. Free shipping with no minimum is included when you shop at Walmart.
Decorating your house with giant repositionable appliques is a great way to add a pop of colour in unexpected places. This decorating concept has been very popular for several years now. The idea seemed to pop up on the market first for kid's rooms as a fun way to make a playful room. This concept has now expanded into designs that are great for any room in your home. I love how most companies refer to these as appliques. To me they will always be giant stickers, though perhaps more fashionable then the smiley face stickers I picked up at the dollar store. As my daughter proved by sticking smiley face sticker all over the floor, those stickers are not repositionable.
My favourite part about this applique kits is that it is repositionable if I change my mind. If any of you have ever remodeled a home, you may have encountered the tedious task of removing old wallpaper. I hope you have knuckles left on your fingers after attempting that horrible job. I never want to repeat that job. Though I really like some of the more modern wallpaper prints I have seen friends put in their homes, after attempting to remove wallpaper I do not think I could apply it to my walls in good conscious.
These new giant appliques do not leave a residue or stick permanently. I think these are a great idea whether you are renting or own your home. An applique is a great way to change up your home's look without committing to something permanent on the wall. This particular set has 14 individual pieces which gives you lots of different options of how to hang them. They come in a nice palette of colours including grey, green, turquoise and brown. The great news is if you do not like how they look, peel them off gently and put them up a different way.
After price snooping around a bit here is what I found for the same applique kit at other stores.
$23.83 @ Amazon.ca
$34.99 @ Staples.ca
$38.99 @ Deserres
Those prices above vary quite a bit. Your white wall will thank you for the colour. I would snag this deal at Walmart.
The one reviewer on Walmart's site seems happy with the purchase and the design. She mentions the stickers take patience to remove from the packaging, which another reviewer mentioned on Amazon.ca also. Plan a little extra time when you are ready to apply these appliques.
This was quite a pretty decal. It stuck on the wall great and I moved it a few times with no loss of "stickiness". The only thing was that it ripped quite easily, so be careful when you're peeling them off the sheet or the wall.
Grab this applique and brighten up your room in time for spring. Your knuckles will thank you for choosing something repositionable. I know my knuckles will thank me too.
Bargainmoosers, what is your favourite accent item you included in your home décor?
(Expiry: Unknown)