Graco Little Lounger Rocking Seat + Vibrating Lounger Was $125 | Now $68 & Free Shipping @ Walmart Canada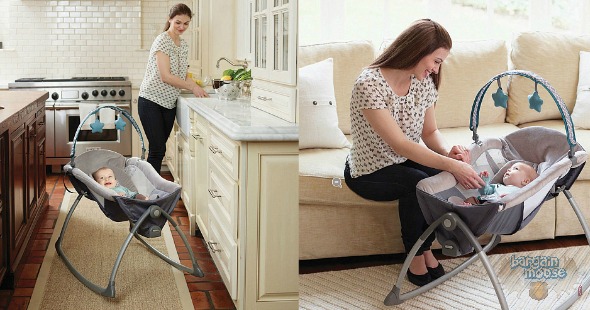 As a mom, I can't tell you how much I appreciated my little one's rocking lounger. If you have a baby on the way, or maybe a brand new little one - then check out this Walmart Canada clearance offer. While quantities last, you can invest $68 into this Graco Little Lounger Rocking Seat + Vibrating Chair at Walmart, which is 50% off the regular price. You will get free shipping too.
With a new baby, getting time to do anything can be difficult. I truly relied on the swing and rocking lounger when I wanted to do dishes or have a shower. I would just bring the lounger into any room I was in, and my son was content and stayed sound asleep with the gentle rocking motion. At least until the battery began to die and it made that horrid clicking noise.
This is the lowest price I can find on this Graco Little Lounger Rocking Seat + Vibrating Lounger. Other retailers are selling this necessity for almost double the price. Toys R Us has this Graco Little Lounger priced at $129.99. BabyRama.com is the next best price at $119.99. I would say $68 from Walmart Canada sounds much better!
This product has 19 reviews on the Walmart Canada website and still holds a 5 star rating. Here is one mom's review:
This is one of those items that when you get it you wonder where it has been all of your life. The Graco Little Lounger allows me to have those few extra moments to tend to other things that a mom has to worry about. Well designed, folds down, portable, rocks and vibrates. What more could I have asked for?!
From reading the reviews, I can see that some moms wish this lounger had an AC adapter so that batteries are not required. Unfortunately I did find that the batteries ran out really quickly in my Graco lounger. Otherwise this is a great two in one product with multiple recline positions for optimal comfort. This lounger also folds up conveniently for storage when not in use - or for visiting your in-laws.
This Walmart Canada clearance offer is valid online and in stores. I waited until I was about eight months pregnant to buy my son's rocking lounger, and trust me that was no fun lugging the box around. If you shop online, you will also receive free shipping which means you don't even have to leave your home. Walmart is great for offering free shipping on any purchase, big or small.
(Expiry: Unknown)