Fruitlicious Duvet Cover Set was $95 is now $30 @ Simons.ca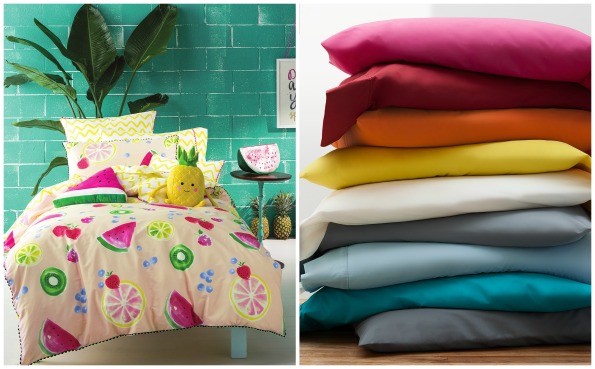 Looking to change up your daughter's room? The Fruitlicious Duvet Cover Set was $95 and is now $30 at Simons online. It is only available in twin size, which is perfect for most children's beds. How cute is that fruit themed decor pictured above? Plus, if you spend more than $100 shipping is free at Simons online.
I spotted this set some time ago but I didn't have any use for it. Even so, I immediately thought of how much I would've loved this duvet set as a young girl. I still remember sleeping in bed sheets that I had long overgrown. This duvet set is reversible and both sides have very different designs: one has fruits all over, and the other side is white with yellow zig-zags. I can only describe this set as "funky looking" because it is! It's a little mod, and whether you buy it for your daughter or yourself, it's bound to make a statement in any room you display it in.
It's often difficult to decorate your daughter's room knowing full well that only a year from now her interests will have changed. That's why a fun and colourful comforter like this one is an appropriate choice for children and teenagers. As a mom, I try not to buy decorations that my child will outgrow in a year from now. Especially decorations with movies, shows or characters that are sometimes only the flavour of the month for my child.
I remember having a comforter that was similar to this one, from Ikea, and I loved it for years. When I finally got rid of it, I still liked it but the colours were washed out and looked very used. I didn't love the design as much as when I first got it but I kept it for years anyways. I was just happy I wasn't sleeping in teddy bears patterns and pokemon sheets like some of my friends still were.
While purchasing a new bed set, most people like to get new matching sheets! Simons actually has some great prices on basic home items, such as sheets. For $9.99, you can choose a 200 Thread Colourful Percale Plus Sheet in a number of colours to match with your new duvet set. The bed sheet and the flat bed sheets were both $14.99 and are now reduced to $9.99. For less than $50 you can get a whole new bed set, with new sheets and all.
Like I previously mentioned, shipping is free on orders over $100. If your order doesn't meet that minimum, the shipping cost is a flat-rate of $4.99. You can also get your order shipped at a store of your choice for free if you are nearby a Simons location.
(Expiry: Unknown)