Free $40 Ikea Canada Coupon On $200+ In Stores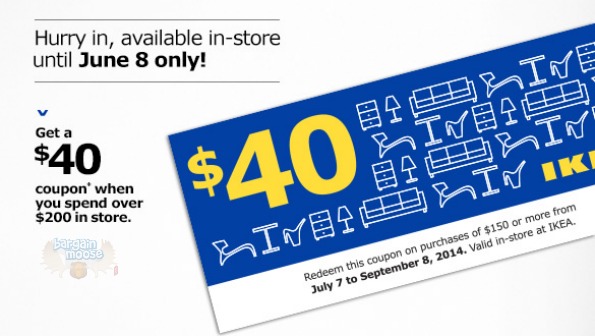 Ikea is one of those stores that you can purchase so much for such a little amount of money, and still get some pretty great quality items.  Right now until June 8th, head into your local Ikea and when you spend $200 or more, you will get a coupon for $40 off your next purchase.
Basically, when you spend at least $200 on anything, you will get this $40 coupon.  You will be able to use it between July 7th and September 8th 2014 on purchases of $150 or more.  You can look at it almost like getting a gift card for future purchases that has a minimum spend.
One of the great things about Ikea is how much they have to offer.  You can literally renovate any room and get all the decorations and furniture to redo it at one store.  Not only that, but they are very affordable as well.  Any time we need to buy some new furniture, we price compare with Ikea and almost every time, Ikea has the best offer.  They may not be the identical piece of furniture but they are more cost efficient and the design is usually much cooler than places like The Brick or Leons.
I am looking to get some new bedding, so that is what I will be spending my $150 on to get my coupon.  Then this summer, we want to update our bathroom and kitchen area, so I will use my coupon for that.
If you are looking to get some great Ikea deals, the best time to shop would have to be on Wednesdays. Every Wednesday, they have what they call "Wacky Wednesday Deals" and you can save a bundle. I have bought flower vases for $0.01 (that is not a typo, they were actually just a penny each!), I have got a duvet (and a good one too) for just $20, and countless kitchen accessories for next to nothing. I actually saw a man that owned a dollar store and was purchasing Wacky Wednesday deals for his store, so he could turn around and sell them and make a profit!
(Expiry: 8th June 2014)