Flash Sale: Jamie Oliver 10-Piece Cookware by Tfal + Bonus Wok + FS - Was $599 | Now $149 @ Hudson's Bay Canada (EXPIRED)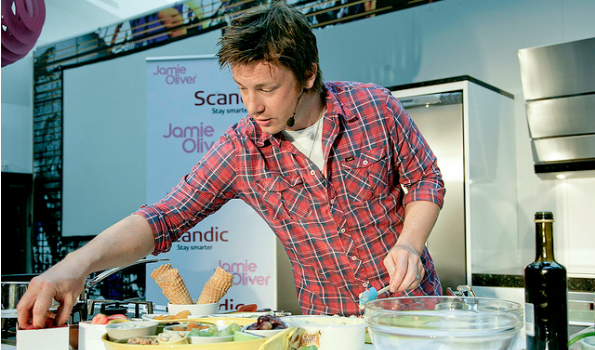 Score the Jamie Oliver 10 Piece Maintstream Stainless Steel Set by Tfal at a fraction of the original cost. This cookware set was $599 but is now only $149 @ Hudson's Bay Canada. This deal also includes a free bonus wok with your purchase. Shipping is free on all orders over $99 at Hudson's Bay and this order qualifies.
My handy Kitchenaid cookware is starting to look a little sad in the kitchen. I started with a nice red matching set of cookware once upon a time. Several pan purchases later and my set looks more like something you might find at a garage sale than a set fresh off the shelves. It just may be time for me to scrap the lot, cut my losses and buy a new set.
This set has a great selection of pans. It includes:
24cm and 28cm frying pans
1 quart and 2 quart saucepans with lids
24cm stewpot with lid
25cm sauté pan with a lid
Free bonus wok
This set features TFal's thermos spot technology and a nonstick coating on the frying pans that helps to distribute the heat more evenly in the pan. All pans are a brushed 18/10 steel interior. The lids are tempered glass, which means you can peek in at your food's progress without allowing the heat to escape.
I price shopped around a bit for this set. Strangely, the only place I could find this cookware set for sale was at Michaels.ca for $798. I had no idea Michaels sold cookware online. I thought they kept most of their cooking products within the baking and caking decorating genre.
Hudson's Bay has a few other cookware pieces and sets by Jamie Oliver on sale today for 60%-70% off. You could add an extra stainless steel frying pan to your set. The smallest 20cm Stainless Steel with Copper Frying Pan was $170 but is now available for only $68. This pan is also available in 26cm or 30cm size, although the price adjusts up with each size pan. This item does not meet the minimum of $99 to qualify for free shipping by itself.  You must add this pan to the bigger set or add something else to your order for free shipping.
The cookware set does not have any reviews currently. The matching frying pan, which is included in this set and sold individually, does have a few positive reviews. The frying pan when sold alone has a five star rating. Here is one happy customer's take:
Great small frying pan, ideal for little things like two fried eggs or toasting pumpkin seeds. I love mine so much I have given three as gifts.
This deal is only for today, so you want to grab it fast.
(Photo Credit: Scandic Hotels)
(Expiry 4th February 2015)