Fisher Price Imaginext Eagle Talon Castle Playset Was $80 | Now $42 @ Sears Outlet Canada (EXPIRED)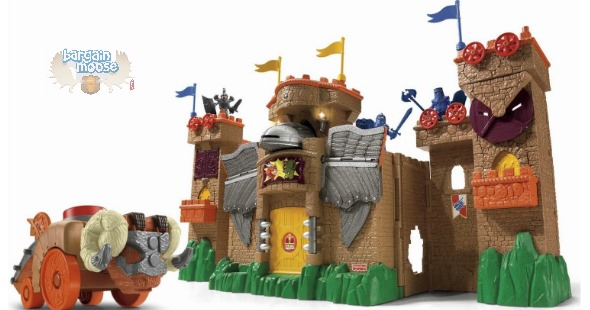 Now it can be easy for your child to imagine a world full of action. Sears Outlet Canada has the Fisher Price Imaginext Eagle Talon Castle Play set for just $41.94 as opposed to the regular price of $80. That means you save almost 50% on this medieval adventure set.
Fisher Price Imaginext is famous for creating tiny worlds of action and excitement for your little ones. While the Imaginext play sets can be quite pricey, this is a great deal. Right now you can save almost 50% on the Imaginext Eagle Talon Castle Play set by shopping at the Sears Canada Outlet online. This set would have normally cost you $80, but right now you will pay just $41.94.
Get ready for battle with this medieval adventure set. Your child will be set for hours of entertainment with the castle and accessories included in this purchase. There are 3 figures, turn discs, catapults, cannons, projectiles, firing discs, flags, castle and batteries are included. The figures even come complete with helmets, shields and swords. This might be a great addition to the play room if your family has recently ventured out to a Medieval Times show.
Take one of the life like figures and turn them on different disks to activate the defense mode. Talons will lock the gate to the castle while shutters barricade the windows. Then, the eagle's head will reveal itself and be ready to fire at your enemy. There are also many different lights and sounds featured to spark the imagination. Your child can reconfigure the castle from being 20" up to a whopping 42", which will make sure that play time doesn't get boring.
Did I mention that this product has great reviews? Here is a happy customer's review:
My 4 year old received the Eagle Talon Castle and The Dragon for Christmas this year. They are by far the best toys he has received. We cannot wait to purchase more accessory pieces that interact. Approximately four times a day I hear my son exclaim "Defend the Castle!" and "Dragon!!!!" I haven't had any issues with any of the pieces, everything has interacted well together and performed as suggested.
This Imaginext Eagle Talon Castle Play set for $41.94 at Sears.ca is best suited for children ages 3 - 8 years of age. If you are just purchasing this item alone, you will pay $7.95 for shipping. That means, after shipping and taxes your total will be $56.37 which is still quite a discount from the regular price. If you don't want to pay that price for shipping, you can either opt for "Ship To Home" which will cost you $3.95, or spend $99 and get free shipping.
(Expiry: Unknown)