Evenflo EuroTrek Travel System Now Only $100 & Free Shipping @ Walmart.ca (EXPIRED)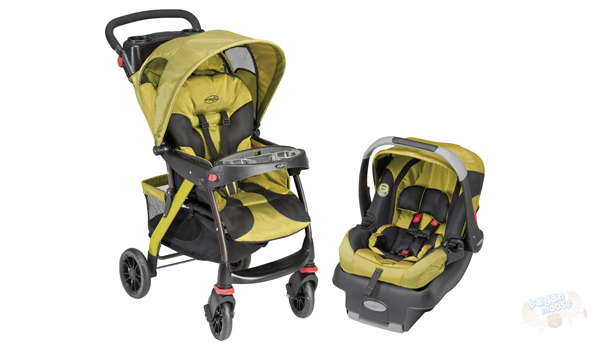 A combo pack with kids gear? Yes, please! The Evenflo EuroTrek Travel System is now only $100 @ Walmart.ca. Walmart offers free shipping with no minimum every day, on every item. A travel system is a big item to ship and the free shipping really seals the deal.
There is an excitement in the air when you are a new parent as you prepare for the big arrival. Check one more thing off your list to buy with the Evenflo EuroTrek Travel System. This combo pack includes a rear facing Evenflo bucket car seat designed to hold a baby up to 35 pounds. Down in the Q&A, a Walmart representative says the minimum weight limit is 5 pounds. This car seat includes a 5 point harness system to keep baby snug and secure.
The stroller includes a weight limit up to 40 pounds, which would still fit my 3 year old. Another great feature is a one handed folding system. A pivoting snack tray also allows kids to get in an out easily or to dump those crumbs on the go. There is also a parent consul by the handle to stash a drink or other small items. That parent consul is more important than it seems. I ended up buying a soft consul to Velcro onto my stroller since my Britax did not have that feature and paid about $30 bucks for it. The colour looks to be a yellow or green colour but most consumers are reporting it to be green in colour.
I did a little price checking on this item and it seems this particular pack is not sold often anymore. Amazon has it for $337 and it only qualifies for free shipping if your sign up for their Amazon Family discount program. Sears has a comparable Evenflo Flexlite travel system in green but get ready to shell out $229.49 for that make and model.
Reviews are a mixed bag on this travel system. People either praise it as being the next best thing to sliced bread or are thoroughly unimpressed. One person complains the stroller is too long and bulky while another claims it goes in and out of their Honda Civic with ease. Most reviewers agree they like the sun shades and that the system folds easily.
Now do not be fooled, folks. Whether you enjoy being a parent or not is not the fault of the stroller. Your life changes usually changes a bit after you have children. Someone should have clued in this UK Dad. He seems a bit bitter now that he is selling his own "green albatross" double stroller on Ebay as mentioned by The Yummy Mummy Club. He waxes on and on about how for "just £9.99 you too can screw up your life." His humour is a genius stunt, as last I checked bids were over £156,706.00 on ebay. There are still 4 days to bid if you want to own his stroller.
Buy this stroller from Walmart instead. This travel system will come with better karma and the price tag is much better.
(Expiry: unknown)