Dumbo - 70th Anniversary Edition DVD - Now Only $9.50 @ Walmart.ca (EXPIRED)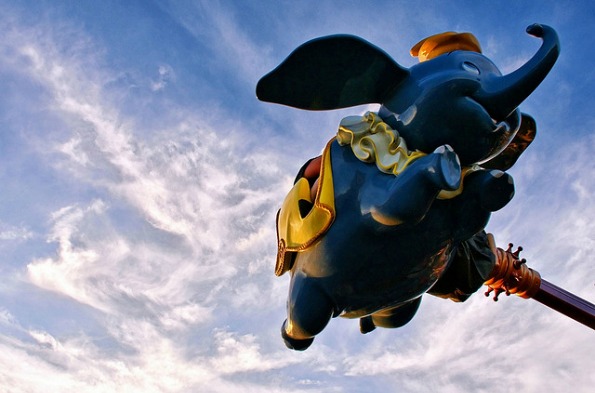 Sometimes you just cannot beat a classic. Walmart is offering the 70th Anniversary Edition of Dumbo for only $9.47. The stock is limited so you may want to grab this deal quickly. Walmart offers free shipping with no minimum making this the best deal for this DVD.
UPDATE - you can get it at this price also @ Amazon.ca but without the free shipping
This post was originally going to be about what a great deal purchasing Dumbo on DVD today is on Amazon. Once I started sniffing around though I realized you would get an even better deal by picking this DVD up at Walmart today.
Walmart and Amazon currently have this DVD at the same price. The difference is Walmart has no minimum on shipping. If you buy this at Amazon, it is going to cost you at least another $2-4 dollars in shipping depending on where you live. I priced this out and for where I live in Quebec they want to tack on another $3 to ship this DVD to me from Amazon. That puts this DVD almost to the price that Future Shop and Best Buy wants to sell it.
The true reality is these DVDs usually sell closer to the $16-$30 price point. That may seem like a wide range.  I have personally been searching for classic Disney DVDs for my kid and I have noticed the price fluctuates drastically throughout the year. I have seen used copies of Dumbo go up for sale for $10 on a local garage sale site I joined, and they sell quickly.  $9.47 is a great price for this classic when you factor in the free shipping. I do not think this deal will last long once people find it.
If you are unfamiliar with the Dumbo storyline here is the twenty-second version. Mrs. Jumbo (an elephant in the circus) has a baby elephant with extremely large ears named Dumbo.  The rest of the circus animals and visitors tease Dumbo relentlessly because of his ear size. Dumbo with the help of his friend Timothy Mouse and a magic feather becomes the first flying elephant and overcomes the teasing. He learns about believing in yourself and friendship while becoming a star flying elephant. Complete with many songs this is a classic film, one of the first of the Disney line to win hearts. This edition has been remastered and retouched to update the film.
Here is what I found when I price matched this DVD. You may notice a wide variety of prices. Most of these retailers have some kind of minimum on shipping.
$9.47 @ Amazon.ca- free shipping for spending over $25 only
$14.99 @ Futureshop.ca
$14.99 @ Bestbuy.ca
$15.99 @ London Drugs
$29.99 @ Sears.ca
$35.99 @ Staples.ca
With a solid 98 reviews and four and a half stars on Amazon, this DVD is finding its way into many homes. This reviewer talks about the transferring of this classic film into the DVD format.
"Dumbo" is a family classic. It sparkles with the kind of innocence and mastery of the craft of animation that is outstanding. A rich and vibrant animated picture that completely captures the spirit and vitality. There is a bit of film grain present and some minor age related artifacts These do not detract from the visual presentation. Colors are solid and vibrant. The audio has been remastered and remixed and is very nicely spread out over all your speakers.
Grab this classic now and you will be ready for the long January winter with a Dumbo movie night in. Do not forget your tissues for this classic!
Bargainmoosers, what is your favourtie classic Disney movie?
(Image Credit: expressmonorail)
(Expiry: Unknown)