Disney Backpacks Just $3 @ Walmart.ca *HOT*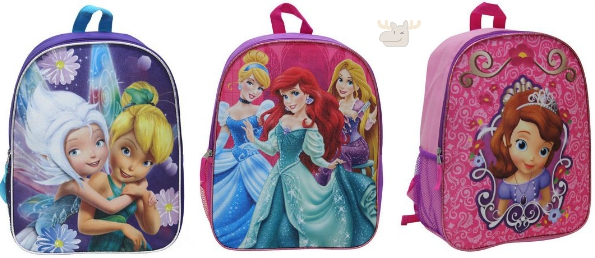 If you are looking for an awesome deal on a backpack, well you just cannot do better than this! A selection of Disney Backpacks is on sale from $7 down to just $3 on clearance. These backpacks are selling out quickly but there are still four designs in stock.
The first Disney Backpack on sale is the Disney Sofia the First backpack with Sofia's lovely face on it. This backpack like all Disney backpacks is made of 600 denier polyester and features adjustable straps with a padded back for ultimate comfort and a personalized fit. There is a main zippered compartment, top handle, and one mesh pocket.
Next, the Disney Princess backpack features three of the most popular Disney princesses: Ariel, Cinderella, and Rapunzel. I really like Ariel but I think I prefer Cinderella. You do have to admire Rapunzel's spunk in the movie Tangled.
Next, there are two Disney Faeries backpacks. The first Disney Fairies backpack (1) features Tinkerbell in all her glory. The second Disney Fairies backpack (2) features Tinkerbell and a friend. I do not know who the friend is because I have never watched the movie but I am sure someone could fill me in on the missing name.
While not a Disney Backpack, this Sanrio Backpack - Hello Kitty is also on sale from $7 down to just $3. I like Hello Kitty better than the Disney princesses myself. Also, for the boys, this Angry Bird Backpack was $7 and is now $3.
These are great little backpacks for young children and they are at such a reasonable price. Trust me, at this price they are going to sell out VERY quickly. You can get free shipping to your local Canada Post location on these backpacks so you are not out any extra money. I pick up all my packages at my local Canada post anyway as my mail person no longer bothers with delivering packages *growl*. Other than that, free shipping is only for orders of $50 or more at Walmart Canada now.
(Expiry: Unknown)