Cool 3D Character Lights from $26 Shipped @ Costco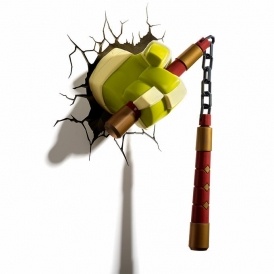 I was surfing Costco.ca and found the coolest 3D lights for the kiddos. If your little superhero's bedroom needs a bit of a lift, you have to check these out. They're mostly 'boy-oriented', being mainly Teenage Mutant Ninja Turtles, but if you've got a girl that's into TMNT, even better! If not, they do have Dora and Boots available.
These lights mount on your wall and the TMNT ones come complete with a 3D crack sticker to make it look like the character has smashed through the wall! They require 3 AA batteries to function (not included) but the bulbs are expected to last for over 5 years. They operate with a simple on/off switch.
The Ninja Turtles themselves are all $25.99. Check out:
Complete the look with one of the Turtles' weapons for $33.99 each. My favourite is Michaelangelo's Nunchuck.
Also available is 3D Transformers Grimlock but I find him a bit scary. He's $35.99.
Finally, among the boys, we've got Dora and her buddy Boots. They're $25.99, as well. Dora and Boots are a little bit different in that their heads are the light and the bodies come as stickers but they still look very neat and, I think, would make a nice, soft nightlight
What do you think of these lights?