Clearance Tents From $34 @ Walmart.ca & Free Shipping!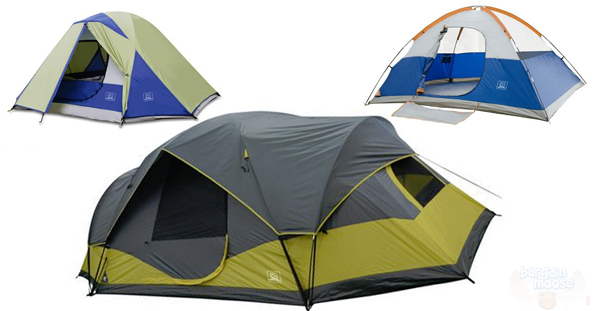 The other day, when bumping this post about the Ventura 9 Piece Family Camp Combo for $75 from Walmart (which is now available again, by the way), I noticed that there were a number of other tent deals on their clearance pages. Some items have been reduced to clear so there will be limited stock, and all of these tents come with free shipping from Walmart.ca too.
If you click the above link, you'll see some of the regular priced tents as well as the clearance ones. I'm going to highlight the best offers that I can see on site. Here they are:
Ventura 10ftx 8ft Family Dome Tent was $69.97 now $50 & free shipping – this tent has just the one compartment and sleeps 5 people (pictured top right).
18' x 9' x 70" HYBRID FAMILY DOME TENT was $148 now $95 & free shipping – this is a big one (pictured on the bottom of the image above)! It's reported to sleep 10 people.
Jack Wolfskin Yosemite II Tent was $300 now $195 & free shipping - this seems to be a more expensive brand name when it comes to tents (sorry, I don't personally know a lot about outdoor stuff)! It's a 2 person real dome tent. Ignore the "assembled product dimensions" on the Walmart page, this tent is definitely longer than 24" when assembled. :)
Honourable mention: the Ventura 9ft x 8ft Sport Dome Tent (for 4 people and pictured top left) is not in the clearance section but it's a steal for only $34 with free shipping from Walmart. If you're looking for a basic tent for a young kid, this could be just the ticket. It's got limited stock online, so it may not last for long at this price.
Price Comparing
Because I am mentioning a wide range of styles and brands in the post above, it's up to you to check out each individual price before you buy. For example, comparing to tent deals sold by Amazon.ca or on Canadian Tire, you can have a glance at similar models and compare the costs. I believe that the Ventura brand may possibly be unique to Walmart, I can't see it anywhere else online in Canada, so it's hard to compare like for like on these particular models.
(Expiry: unknown)