Breville One Touch Tea Maker Was $300 now $175 & Free Shipping @ Sears.ca! (EXPIRED)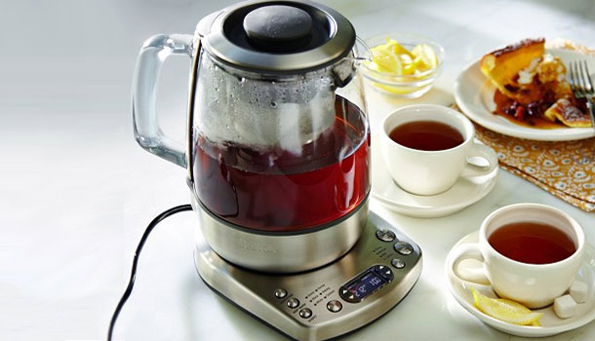 If you're in the market for a tea maker, check out the sweet price on this Breville One Touch Tea Maker from Sears Canada. Originally priced at $299.99, the sale price is now $224.99. But this weekend, there's also a coupon code to take $50 off $200+ on select items and it brings this small appliance down to only $174.99 with free shipping!
Use this Sears coupon code 941612154 to get an extra $50 off the marked price there, to avail of this deal.
Now, there are probably a few people out there wondering why the heck someone would spend nearly $200 on a tea maker. Well, there are plenty of people out there with expensive coffee machines in their homes, why not have an expensive tea maker? I for one, am a big tea drinker. I would drink an average of around five cups of tea each day. I think that's a lot… but it's a habit which is hard to crack.
Then there is also the argument of the quality of teas – instant tea bags compared to loose leaf tea. Loose leaf is obviously superior quality, but it's more expensive and time-consuming to prepare. With the likes of this Breville tea maker, it can prepare your loose leaf tea to perfection.
Here's a video from Youtube about this particular model of tea maker:
The machine looks good, I am tempted! The timer sounds really handy – it means you can set the tea maker to come on at a set time in the morning, so there's a delicious cup of tea waiting for you. They also say that you can use this machine as a variable temperature tea kettle, without the tea basket. In the video, they mentioned that it can be used for things like hot chocolate and instant noodles. I thought you put the instant noodles in the device, but I listened again and it just means you can boil water for different things then prepare them OUTSIDE the Breville device. :)
A review over on Costco.ca says:
I am in love with this machine… It's only been a month and I am already experimenting with different tea leaves.
That's what would interest me, to be honest. I'm pretty staunch in my tea drinking habits, I'd really like to try different flavours and I am sure this machine is the type of thing that would encourage me to do so.
As for a price comparison, the RRP on Breville.ca states $299.99, and you can buy it there for that price. The tea maker is currently selling for $224 on Amazon.ca, and the same at Future Shop and Best Buy.
Obviously not everyone is going to be interested in this deal… I think there are probably more coffee hounds than tea lovers out there. But it is a great price for this particular Breville tea maker model from Sears Canada.
(Expires: 25th January 2015)