BrecksBulbs Canada: $35 Discount Off $75!
(EXPIRED) I was looking for some new bulbs for my mom, and I noticed this offer on a banner on the Brecks Bulbs website. Apparently, you can get a $35 discount when you spend $75 or more – that's pretty substantial!!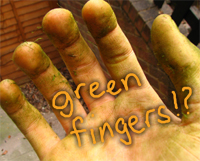 Where:

Online @ BrecksBulbs.ca

Discount

: $35 off $75

Coupon

Code: 901431

Expires

: Unknown
My mom has a garden full of green things, I can barely name 4 of them!! I know she has rhubarb, strawberries, lettuce and maybe even chives!!! But seriously, she has a garden full of lovely edible fresh veg, and it's ever-expanding. She'll be well pleased with this promotional code to save her a few bucks!! Now that the weather is getting nicer and nicer every day, it's a perfect time for her to be out in the garden, pottering about.
Are you greenfingered?
Thanks to Roo Reynolds for the piccie!