Bean Bag Chairs From $39.97 @ Toys R Us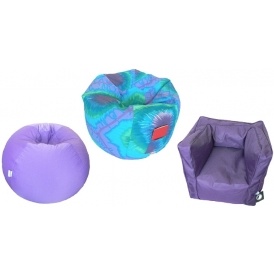 The kids will love having a bean bag chair of their very own to sit on! Right now Toys R Us Canada has Bean Bag Chairs on sale from $39.97 in all shapes and sizes.
I grabbed the Boscoman Stretchy Bean Bag in Purple for my living room. This one is $47.97 down from $59.99 and comes in red, blue, pink, or purple. Grab a matching Boscoman Solo Ottoman Bean Bag for $39.97 down from $49.99.
The Boscoman Tie-Dye Bean Bag also looks like a lot of fun! The Periwinkle colour is my favourite but there are a variety to choose from like Red Rainbow, Lime Green and more. These ones are on for $55.97 down from $69.99.
Some chairs qualify for free shipping on orders over $49. Others have free in-store pickup or a $10 discount on the shipping fees. It all depends on which chair catches your eye!