Awesome Light Bulb & Ceiling Fan Pull Chain Set @ eBay.ca (Just $12 + Shipping)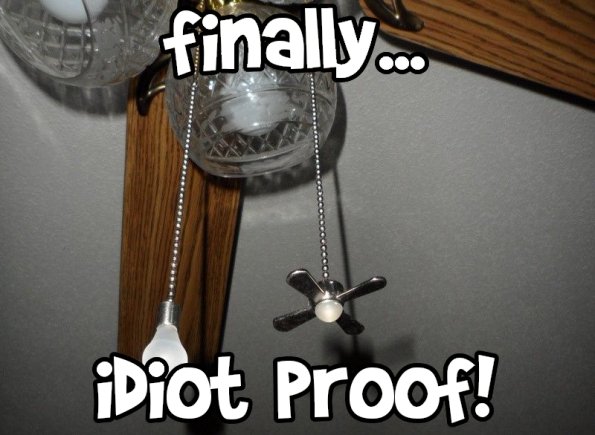 Oh my goodness. This might just be the best thing since sliced bread. How many times do you pull the chain on your ceiling fan to turn the light on, just to find that you have actually switched the fan's direction or speed? It is sooo frustrating, but I have discovered the solution. Check out this adorable Light Bulb & Ceiling Fan Pull Chain Set from eBay.ca for just $11.97 plus shipping.
This seller on eBay Canada is a Top-Rated Seller which means they consistently receive high ratings, ship their items quickly, and customers are happy with their products. In the long run that means you won't be disappointed with your purchase. This item will definitely be a conversation piece in your home. I was not able to find this Light Bulb & Ceiling Fan Pull Chain Set anywhere else in Canada online, but originally it looks like it was made and sold by a company called Harbor Breeze in the US. They sell for about $9 USD at American retailers, so our Canadian price is not far off.
So now all you have to do is make sure you install the right pendant on the right chain so you don't confuse anyone. Life will be so simple now! It even comes with a sticker telling you which way the fan should go for winter and which way the fan should go for summer. Pretty idiot proof, right? I definitely need this in my household. Even if it is not a blazing hot price, this item is still phenomenal. You could probably duplicate this idea by buying two different pull chain pendants and just remember which one is for the fan and which one is for the light, or even just put one on the light. I have even seem some that glow in the dark, how convenient!
The only bummer about this deal is that you have to pay shipping as well. While it seems a lot of items over at eBay.ca include shipping, this particular item does not. I honestly would pay this price though, to relieve myself of the aggravation involved with pulling the wrong chain on my ceiling fan. As a cheaper alternative, you can buy any ceiling fan pull ornament or charm from your local Home Depot or Lowes, or even shop online. Other versions that are flowers, pearls, etc seem to go for about $7.
(Expiry: Unknown)