60% Off Pillows & Throws, From $14 @ Chapters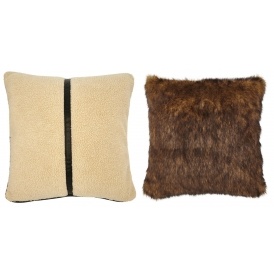 Chapters has some great prices on throw pillow covers, as well as on some great styles of throw blankets. Their current sale lowers the prices on these great items by 60%, or more! With great colorful and modern styles, this sale has every taste in mind.
Moosers, as I've already mentioned a few times, I am a huge fan of throw pillows. What I haven't had the chance to gush about is my love for throw blankets. Each couch in my house has at least two blankets, and our bed is covered in throws that I keep claiming are "in case I get cold". Most, if not all, of them are straight out of Chapters because of their timeless designs. Plus, it's just hard for me to resist the look of a nice fluffy throw blanket or some pretty throw pillows. Plus, with cute styles like this Faux Shearling Pillow Cover, originally $39.50, now only $14.50, and this Red Plaid Throw originally $69.50, now on for only $24.50, you really can't resist.
Don't forget that shipping is free to the store nearest to you, or on order over $25!
(Expiry: Unknown)