58% Off Hamilton Beach HealthSmart Juice Extractor Just $38 @ Walmart.ca *HOT*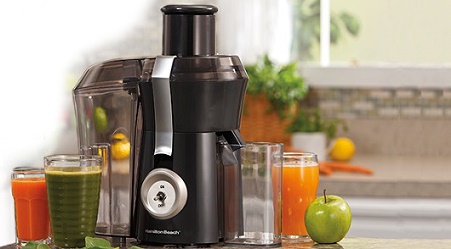 For the New Year I promised myself that I would be healthier, and I was thinking I could invest in a juicer. I think Walmart and Amazon read my mind, because not long after thinking about getting a juicer I have found this great deal at Walmart.ca! For a limited time, grab the Hamilton Beach HealthSmart JuiceExtractor for 58% off the regular price and pay just $37.97. There are a few different shipping options available.
The Hamilton Beach HealthSmart Juice Extractor (67608C) is the absolute lowest price I have ever seen right now. I have seen it go on sale for $60 at Sears.ca before, but this is truly a steal. Please don't wait long to add this item to your shopping cart, you won't regret it.
Here is a quick look at what this juicer sells for elsewhere in Canada:
$89.99 @ BestBuy.ca
$99.99 @ LondonDrugs.com
$129.99 @ Amazon.ca
This juicer is also known as the Hamilton Beach Big Mouth Juicer. That is because you can add pieces of fruit or veggies that are up to 3" in size, which in turn means less work when cutting up your ingredients. My mom's juicer has just a small port, and it is so much work to clean it. This one seems all around easier to use and easier to clean, which is definitely important. A big reason I don't make my own juices is because I am worried that it will be too much work. After reading the reviews and description on this product, I am happy to say that won't be the case.
There are plenty of reviews on the Walmart Canada website to solidify your decision with this purchase. Here is one happy customer review:
I've had this juicer for about 2 weeks, and have made various fruit and veggie juices, and now (today) almond milk. I am seriously impressed by this juicer, particularly at this price point (and even more so if you can get it on sale!) — I think I would be equally impressed with it if it had been twice its retail price.
The expiry date is not listed with this offer of course, but it is going to sell out super fast - trust me. For shipping, you can get free shipping to your door when you spend $50 or more. Otherwise you will need to have your purchase sent to your local Walmart Canada Grab & Go Locker or your closest Canada Post Office. Those options are free with no minimum purchase.
Moosers, have you made your own juice before?
(Expiry: Unknown)