50% Off Mega Bloks Dump Trucks were $20 now $10 @ Walmart.ca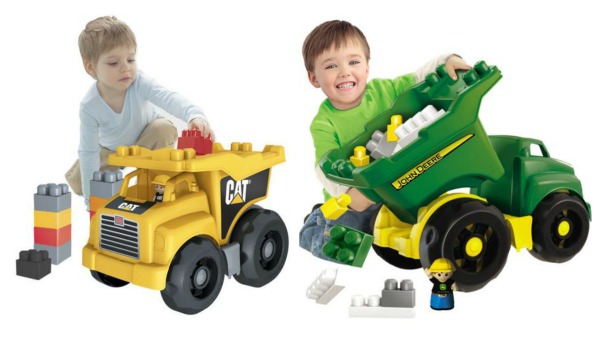 Two of my sons favorite toys all-in-one: trucks and building blocks! Walmart has two Mega Blocks Dump Trucks on clearance at 50% off. Originally, these were $20 and are now reduced to only $10. The picture above are the two options available: one is a John Deere model, and the other one is a CAT model. $10 is a great price for a brand name toy truck plus some Mega Bloks.
Each of these trucks has similar features. The CAT model has 25 blocks, and comes with a construction worker figurine. The John Deere model, comes with 20 blocks and a John Deere trucker figurine. These trucks are recommended from ages 1 to 4 which can give your child years of playtime. I can tell you that my son has been playing with his Mega Bloks for more than two years, making them a very durable toy.
My son had a Jeep Mega Bloks ride-along similar to these two trucks, and what I liked the most about it was that once he was done playing with his blocks, I could store them in the Jeep and forget about them. I imagine parents will also appreciate this feature with these two dump trucks. Once playtime is over, just park the truck in a corner and put the Mega Bloks back in. If your child already owns some Mega Bloks, these even have extra space to store them.
The other feature that parents will love with Mega Bloks, is how easy they are to clean! The blocks are so large that you can just dump them in your sink with some soap and water for an easy clean. Not all toys can be cleaned this easily and it is so important to prevent bacteria from sticking around.
The two brand names on the truck make these toys so much more appealing. If your son is anything like mine, he will love to own a truck with a brand name that he can see on the roads or in the fields. His grandpa owns nothing but John Deere trackers and to him, owning anything John Deere makes him very proud. Children love to imitate, and owning something that the adults also own makes them so happy. Now, my son is a John Deere fanatic and gets excited to show his grandpa that he is just like him!
Shipping is free on orders over $50 at Walmart. If you're looking to purchase a single truck and can't meet the minimum purchase, you can pick up your order at a Walmart Grab & Go Locker location or at your local Canada Post. How easy is that?Unfortunately, the John Deer model is not available for shipping at a Grab & Go location.
(Expiry: Unknown)