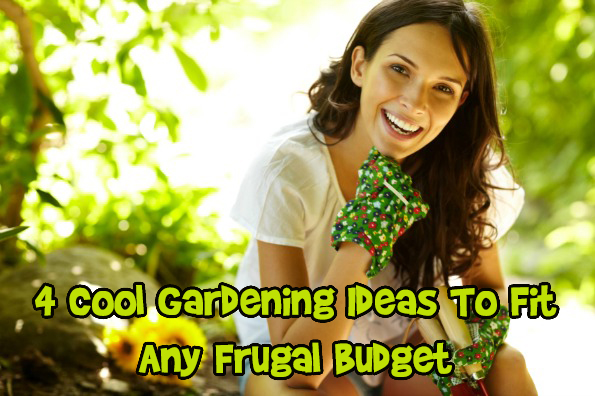 Landscaping and gardening are very rewarding Do It Yourself projects because you get to enjoy the fruits of your labour (sometimes literally - if you are growing fruits and vegetables). At the same time, landscaping and gardening can be a lot of work, and the cost can add up. Large and pretty pottery containers can range upwards of $40+ per ceramic container. Hanging baskets are typically $25+ a piece, and usually you can't just get one.
Despite these high prices, being able to see bright and cheerful flowers on a daily basis, or eat your own fruits and vegetables that you planted yourself is, frankly, priceless. To try and avoid some of these high gardening costs, here are some frugal gardening ideas to help you have your cake and eat it too. These ideas are funky, fresh, and a little bit hipster.
Use a Pallet to Hold your Vegetables
Cincy savers shares some great ideas on how you can re-use old pallets (often free from warehouses because they consider it waste) as a container for your vegetable garden. Using a pallet creates an instant raised garden bed once you add the dirt in it. No fuss no muss, no need to measure plywood and do your own carpentry project.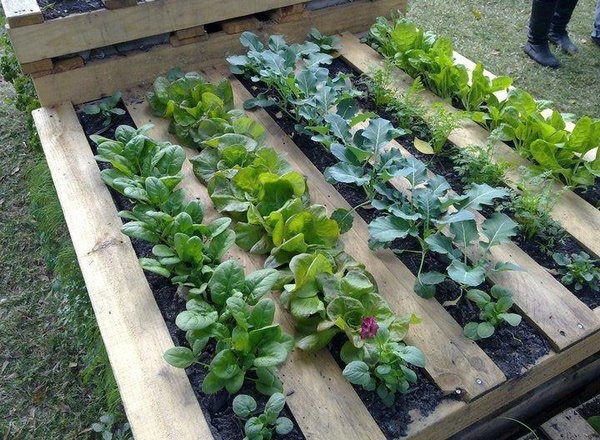 You can even make a wall garden with a pallet too. It looks just as good.
Turn an old cloth shoe bag or rack into a vertical garden
This idea by Seasonal Wisdom shows an old shoe bag that is turned into a vertical garden. This idea is great because it's easy on the wallet, easy on the eyes, and also easy on space. This vertical garden is perfect for herbs like basil and coriander, strawberries, or lettuce - just make sure you water it frequently and allow for proper drainage. It may not have the best longevity in terms of growing seasons, but it's free and it looks good. See below for inspiration.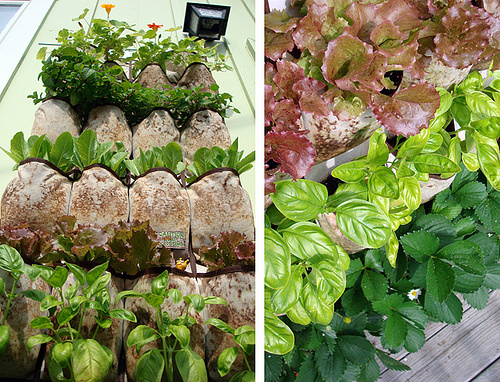 Colander-ify your hanging plants
Kerry Michaels, of About.com shares an idea on using an old colander as a container for your flowers. She suggests that you can even turn the colander-containers into hanging baskets by using heavy duty wire or a strong twine and weaving it through the four sides of the colander. Despite the beautiful idea, she does warn that the plants' roots may get too hot (e.g. burn) in a metal colander, so keep an eye out for that. I personally think this is a wonderful use of a colander. It looks better with a flowering plant than in your kitchen drawer. I hope this doesn't cause a mass exodus of colanders out of the kitchen and into the garden.
Create a Miniature Table Top Water Garden
Enough talk about outside the home. If you're interested in beautifying the interior of your home (or you don't have enough space on your patio for a pallet or shoe bag vertical garden), you can consider creating a petite table top water garden. These chic little table top water gardens can bring a lot more zen into your home, not to mention a pop of vibrant green colour to your interior décor. It will give your home a uniqueness that will be a great conversation starter!
This idea for a miniature tabletop water garden is from Interiorholic.com; all you need is a glass bowl or a glass saucer - something to store your water garden in. As long as it is transparent, your water garden will look good. Next, Interiorholic recommends that you get some soil, a small plastic container that isn't as high as your transparent glass bowl, and some plants that thrive in water. Some such plants are taro, fairy moss, water lettuce, and water hyacinth.
Finally, you then decorate the exterior of your water garden to give it that ultra-zen look. You can use smooth rocks, small weathered tree branches, and even moss.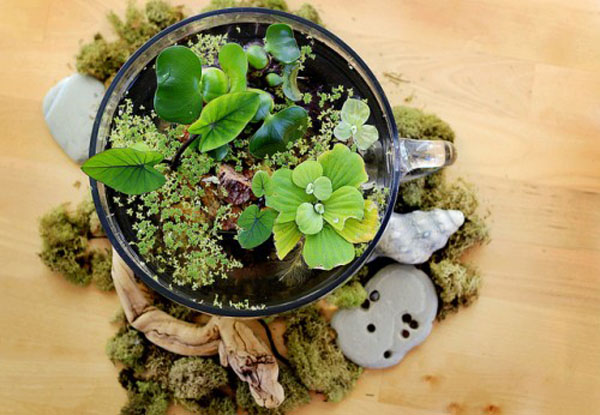 As you can see, gardening doesn't have to be expensive or a lot of work, even though it has the propensity to be. Sometimes we just need a little inspiration and to think outside of the box in order to save money on do it yourself projects like this one. Recycling used pallets, re-using an older colander, creating an interior table top garden, and using an old shoe rack are all interesting and beautiful ways for you to continue gardening on a frugal budget for many years to come.
Bargainmoosers, do you have any other "tried and true" frugal gardening tips?