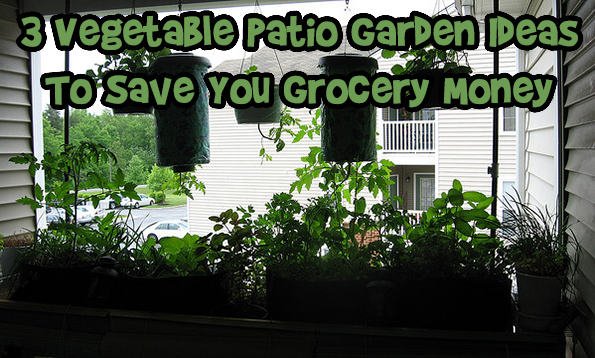 I love the idea of growing your own vegetables for a few reasons.  Pride of growing your own vegetables and being self-sustainable (well, as much as we can be, living in the city), knowing what you're eating and knowing that there are no pesticides in what you are eating, and access to yummy vegetables and herbs right away (just need to go out and pick it) instead of having to head to the store.  However, most people, especially as we become more urbanized, don't have the luxury of having land to grow vegetables in.  Therefore, creativity on how to make your patio vegetable garden work helps keep those vegetables growing!
Here are some great inspirational ideas that will help you make that vegetable patio garden a reality.  In addition, there are some vegetables and herbs that will surprise you as to how easy they are to grow, and hopefully you will have to buy these less often at the grocery store.
#1. Regrow Your Romaine Lettuce Hearts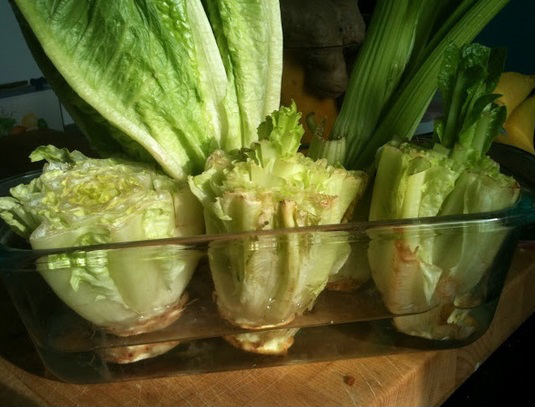 I had no idea this was possible and this ridiculously easy.  This idea comes from the Alternative Gardening blog.  All you need to do is to cut the romaine lettuce heart, put them in water, and watch them regrow in days.  If you want it to be cuter, put them in a nicer tray.  Baby romaine lettuce, all the way!  Just like the green onions that you will never have to buy again (which I have yet to start doing, by the way), this is an easy way to have fresh lettuce in your home all the time!
#2. Grow Garlic Indoors
I had no idea that garlic was so easy to grow.  It makes sense not to keep buying the packages of garlic made in China (who knows what they spray on there) if you can help it. Wikihow has great step by step instructions on how to grow garlic indoors in a pot, complete with 3D graphics.  I personally would not be growing a crop of garlic like that, just a few garlic buds will do, but to each their own.
Okay, now onto some super cute patio garden ideas:
#3. Vertical Vegetable Gardens
I am absolutely in love with the idea of a vertical vegetable patio garden for of a few reasons:  a) more vegetables and more use of space b) more sunlight utilized.  Many patios at the bottom don't get a lot of sun, so having a vertical garden is a fabulous idea.
Juneau Empire has a really cute garden, because it utilizes the idea of gutters to create it.  The only caveat is that this only works well with vegetables that have short roots, like lettuce.  Lettuce, swiss chard, radish all work well with this garden idea.  I like how sleek it looks.
LLH design blog courtesy of Apartment Therapy has a cute idea to use old wine crates as patio garden containers.  Very chic looking might I add.  The platform to hold the crates might be a little more work than I'm able to commit to, but nice idea nonetheless.
You can also grow vertical gardens indoors too, if you're really into the green thumb (and crafty) aspect of this.  These ones from Apartment Therapy are so gorgeous and inspirational looking, not to mention interior design drool-worthy. It would definitely be a centre piece of attention when you have friends over, and they will be amazed at how delicious your food is too! Apartment Therapy gives a few tips on how to create your own vertical garden indoors.
As you can see, growing vegetables and herbs indoors or on your patio is totally doable.  All you need are some ideas!  If you need a bit more inspiration in order to stimulate your green thumb into action, Organic Gardens Network has a great post on 66 edible things you can grow in containers. One "take home message" is that any herb can be grown indoors, but you might want to do some research as to which herbs co-habitate nicely with each other in soil and which don't.
Bargainmoosers, what has been your personal favourite edible thing to grow in a container?
(banner image credit: Michael Stange)