2 Counter Stools, $99.99 After 50% Off At Sears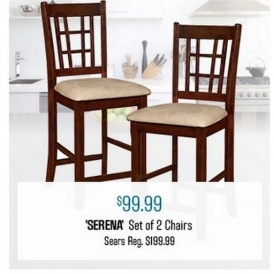 One of the best things we did to improve our kitchen was to invest in a couple of tall stools. We don't even have a tall counter. We have one stool in one corner where our cat likes to use it during the day, but after school my daughter will often go sit on that stool while I make dinner and tell me about her day. (The other stool I admit, usually has laundry on it.)
These are the moments I love during the day - finding out how her day went and discussing current events, etc. Sometimes I throw in cooking tips, too, like any mom would!
Sears is offering a great price on a 2 pack of 'Serena' Kitchen Stools. It's only $99.99 for both! You're saving 50% off! There is a 1 year warranty on them as well.
These counter height stools with a wood back are fashioned with a neutral beige tone microfiber fabric. They will definitely refresh your kitchen or dining area.
Shipping on this heavy, over-sized item is not cheap however - it is around $75 or more! I would suggest going with the free in-store pick up option when you check out. It's definitely well worth it for such a great savings on this 2 pack of counter height stools. You will be able to see the soonest available pick up date right before entering your payment info. For myself, it was only a few days before these Serena stools will be ready for me.
(Deal expiry: June 28, 2016)