Kate Spade (US): $100 Off Veranda Place Nylon Cleary Handbag - Now $148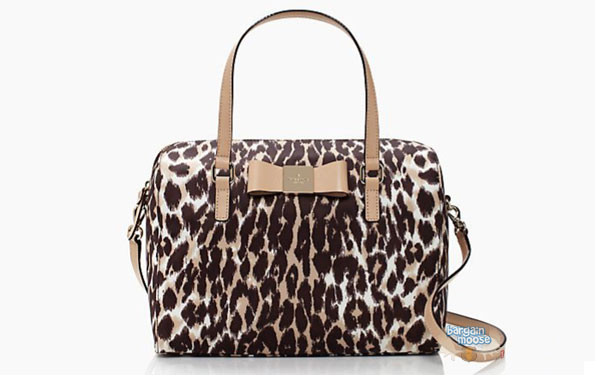 Combine the best of both worlds: leopard and a bow with the Veranda Place nylon cleary bag. It's on sale for just $148 at Kate Spade right now, down from an original price of $248.
Personally, I'm a huge fan of Kate Spade because it's a designer label that is still relatively affordable by anyone on a budget, especially during sales like these.
Had anyone asked me a couple of years ago if I wanted a handbag with a bow, I would have undoubtedly said "heck no", but as of late, I have actually been obsessed with them! In fact, I really like this handbag, especially because while the bow is relatively big compared to the rest of the purse, it's not overtly obvious.
Only available in a leopard design, this bag is also the perfect size as it's neither too big or too small. I have always ran into the problem of either having a day purse that was too big and just didn't look as nice as a smaller hand bag would have for going to breakfast let's say, or one that was too small and in consequence, overstuffed with my million and one things. But then again for the former, I suppose it happens no matter the purse size! :P
It can either be worn on the elbow or on the shoulder with the included strap and it even features 14-karat light gold plated hardware. Inside, it features all of the regular kind of pockets: an interior zip and double slide pockets. You can also get the small evie, which is basically a smaller version of the cleary bag. It's on sale for $106 instead of $178.
There are plenty more discounts to take advantage of at Kate Spade as well. Simply check out the sale section for all of these and make sure to look at the "recently added" as well as there are a ton of greats picks ranging starting from $10.
As Kate Spade ships from the United States, there is a flat $10 shipping fee to a Canadian address and there is a chance of duties and fees being charged as well. Keep in mind that it's only a chance as I have frequently ordered from the US, only to not get hit with any fees at all.
(Expiry: Unknown)