Toronto Zoo – Free Admission for Kids in Halloween Costume!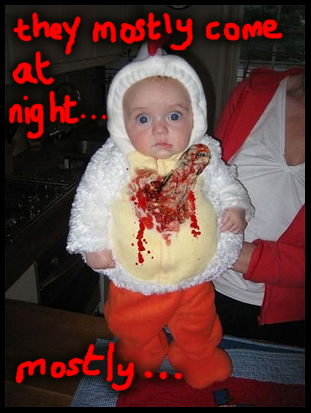 NOW EXPIRED. Here's a great one for the kids!! The Toronto Zoo is having a "boo at the zoo" event. Kids under 12 get free entrance. Each adult can bring 2 kids with them. But here's the catch – the kids must be in costume! (Ends: October 26, 2008 16:00)
Regarding Toronto Zoo, bedandbreakfast-toronto refers to it as a perfect day outing with the kids. So it might be a great idea to get them all dressed up and on a trip for that day, if you're in the GTA.
I found the above image on flickr. Apparently it's a kid in a chicken costume with an alien coming out of their chest. Look at the kids face!!
Thanks for the laugh xmarine1973!
- Anna