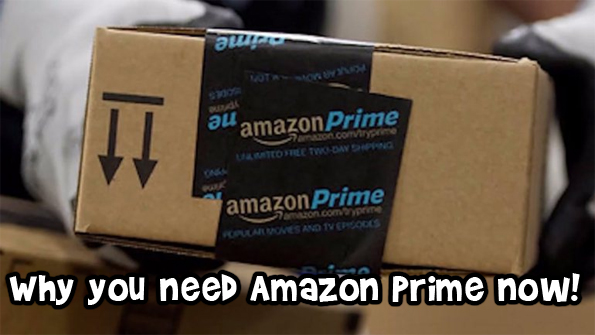 Did you know that Amazon Canada is the BIGGEST online retailer in Canada? It ranks on Alexa as the 6th most popular site here – that's quite an achievement. This probably means that most of the Moosers here have bought something on Amazon Canada at some point… or will be buying something in the very near future!
But I wanted to do a quick post about their Amazon Prime services, because many of you are just about to start your holiday shopping and having Amazon Prime will be a huge benefit.
Benefits of Amazon Prime in Canada: Free Shipping
The major benefit of Amazon Prime is that you get FREE SHIPPING NO MINIMUM on most products sold by Amazon themselves. This service is a 2-day shipping service, which is so handy when you need to order something in a hurry. And coming up to Christmas, this is absolutely ideal for snagging those bargains.
We post many Amazon deals here on Bargainmoose. Because they are a massive retailer, they can often offer deep, deep discounts and very low price points, which smaller stores just might not be able to compete with. And as savvy shoppers, we're going to take advantage of that. ALL of the team here at Bargainmoose have Amazon Prime. That way, when we see a smokin' hot deal, we can just jump right on it. E.g. This Schleich set to dropped to $14 – many of you nabbed it right away before it expired.
There are a few exceptions to the free shipping, such as if you are buying from third party Amazon marketplace sellers, or the add-on items from Amazon. However, the vast majority of the items sold by Amazon are eligible for Amazon Prime.
Benefits of Amazon Prime in Canada: Free Photo Storage
This isn't a benefit that I personally use, but it's there if you want it. With your Amazon Prime membership, you get free unlimited photo storage on the Amazon cloud drive.
Benefits of Amazon Prime in Canada: Early Access to Lightning Deals
In order to snag the hottest bargains in Amazon's lightning deals, you have to be super-fast. But did you know that Amazon Prime members get early access to the lightning deals? We can access these deals 30 minutes before the general public, giving us a little time to get in there and bag a bargain before they sell out at the lower price points.
Lastly – let's take a look at the cost. Here is the breakdown, as well as the difference with Quebec:
Rest of Canada:
Free 30 day trial for anyone who hasn't been a Prime member in last 12 months
Amazon Prime full price for one year = $79
Amazon Prime Student = 6 months free, then $39 per year (for up to 4 years)
Quebec:
Free 30 days when new members sign up for a 13 month Prime Membership = $79 for 13 months
Amazon Prime Student = 18 months membership when you sign up of which the first 6 months are free, then $39 per year (for up to 4 years)
In my household, my partner works in a university and is a part-time student, therefore he has a university email address. We are on the Amazon Prime Student program right now, and it's fab!
(Expires: never)