Looking to add that royal touch to your child's toy collection? Then, the cutest ride-on toy ever is the Little Tikes Princess Horse & Carriage! As adorable as this is, there is no sense overpaying for this little darling (though it's worth it for the Insta-likes!). Luckily, I have found the best price for the Little Tikes Princess Horse & Carriage in Canada at Amazon for $144.
The carriage encourages active play which boosts your child 's imagination, allowing them the freedom to create stories and play dress-up.
Parents can either pull the carriage through the kingdom by the reins or push from the roof handle; and the driver's door opens and closes, so your little one can practice arriving at the palace gates in style (or maybe the patio doors, instead!) It includes a floor board to protect their little feet, which is also removable, so they can propel themselves forward, as they grow,
The Little Tikes Princess Horse & Carriage is also available at Walmart Canada for the same price, so if Amazon sells out or if Walmart is more convenient for you, then you have an alternative store where you can scoop up this regal beauty.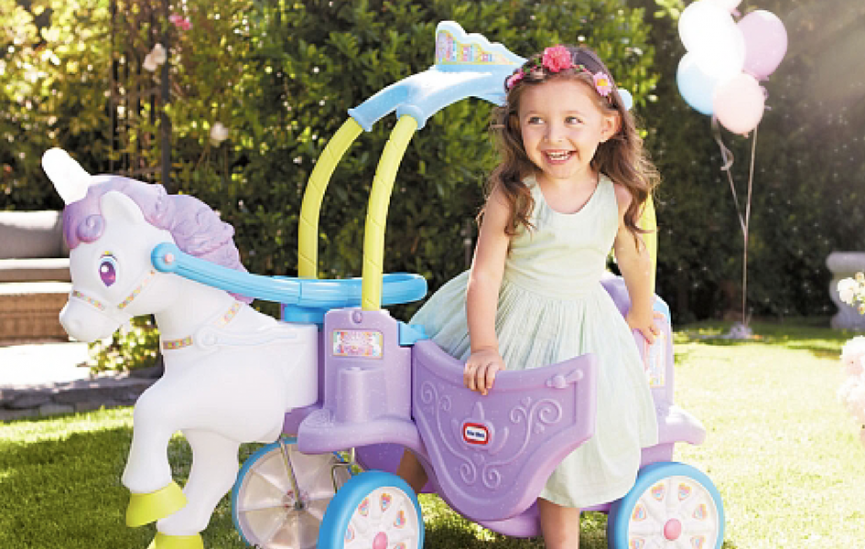 Where to Buy the Little Tikes Magical Unicorn Carriage
However, if unicorns and lilac are more to your child's liking, then a fabulous option to check out is the Little Tikes Magical Unicorn Carriage. It is currently available at Toys R Us Canada for $169.99 and boasts the same features as the Princess Horse & Carriage, BUT it has a magical light-up horn, which is actually pretty irresistible!
Both models feature luxury add-ons such as: a clopping sound, parent and child cup holders and a parent console on the roof, for all your extra carry-ons, like spare crowns and tiaras!
It's sturdy, like all Little Tikes ride-ons and really is an eye-catcher. The price tag is a little steep, but it's the kind of ride that will easily fetch it's value after you're done with it!
Shipping from Amazon is FREE on this item.