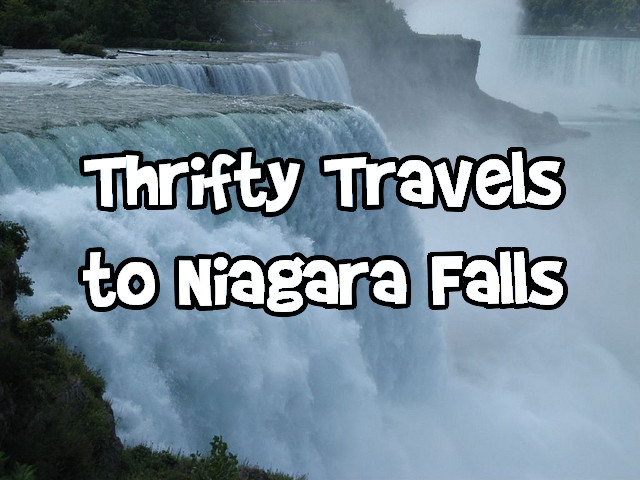 This past March Break, I took the family to Niagara Falls. Honestly, I would never recommend that to anyone. It was way too crowded for my liking, and I think I'd much rather go during the off-season, when I'd also get better rates. The terms Niagara Falls and thrifty don't usually go together, as everything there is at an escalated price, plus there is a tourist tax added on top of these high prices. But, I found a way to do in a wallet-friendly way, both through trial and error and through research. I've been to the Falls at least 20 times, so I think I'm a little bit of an expert on what to do and what not to do.
Fallsview vs. Cityview or No View
First, you'll need somewhere to stay. Most people want the entire package - the fallsview room with the jacuzzi and the full-service hotel. If you want to save some money, you might need to cut back on your expectations. I've stayed in both fallsview and cityview rooms and really, the fallsview is much nicer, but you get bored of it rather quickly, especially if you are going out and about quite often. If this is a romantic trip and you'll be spending quite a bit of time in bed or in the jacuzzi, then definitely splurge, otherwise save your money. Another time you might want a fallsview room is when they will be having fireworks over the falls. It is nice to have the option to watch them from your room in case everyone is tired, or you don't feel like standing out in the street.
Savings: $30+
Off The Beaten Track
When choosing where to stay and if you've already decided you don't need a spectacular view, decide if you can live with being a little farther away from the action. There are quite a few smaller hotels that are behind the big ones that look over the falls and offer much better rates. The difference between staying at the Best Western on Lundy's Lane compared to the Hilton on Fallsview Blvd. is a matter of about $100. This is the same with other hotels in the bigger chains that do are not on Fallsview. You can still get a really nice hotel a few streets back and you'll save quite a few dollars. Take a look at Trip Advisor for reviews and ratings on all the hotels.
Savings $100+
Group Deals
I've both reserved rooms directly with the hotel and bought group deals for hotels and I would have to say a group deal is the clear winner. Both WagJag and Groupon have all different types of hotel deals, most with meal and activity credits included. I would suggest using Trip Advisor to read reviews of each hotel and reviews of the activities and restaurants included too. You really have to do your research because you could read "$100 meal credit" as  being an amazing deal on an $80 hotel deal, but that restaurant's cheapest meal might be upwards of $100 on its own. Our WagJag deal included a $70 credit for Ruth Chris and while you can't find any information about pricing online, I went right into the restaurant, looked at the menu and found that most entrees were $70+ and your side was an additional $12! My family of five would have spent a few hundred dollars there even with the credit. We turned around and found an all you can eat deal at a Brazilian place, where my two younger ones also ate free.  With our WagJag being only $80, and including a few things we did happen to partake in, it was still an amazing deal as the hotel was nice, clean and not too far from the main drag.
Savings: $50+
Eating Out
Like I said, Niagara Falls restaurants have upsized prices, even the chain restaurants you are used to back home add a few dollars to their prices. You really need to pick and choose where you'd like to eat if you want to keep costs down. Even a simple ice cream cone from Dairy Queen was not cheap. Your best bet might be to get off the main strip and head into the city of Niagara Falls, where there are a number of great restaurants frequented by locals that have regular price meals. I would also suggest you bring as much food as you can and find a hotel with a refrigerator, because all those little snacks you'll buy really add up.
Savings: $50+
Having Some Fun
There is so much to do in Niagara Falls, it is hard to be bored. This past trip we went to one of the wax museums and Ripley's Believe or Not. I had actually been to both before, but the kids hadn't and while they mostly enjoyed it, my little one was not too fond of the life-size and life-like wax people. We hadn't planned on going in there, but the guy out front offered us a deal, with both places included and didn't make us pay for the kids. If you'd like to go to one of these places, haggling is always an option. If cutting a deal is just not the way you work, you simply have to ask "is this the best price, or can we do better?" and see what you get. If you do get a group buy deal, many of them come with arcade tokens, laser tag, mini golf and other such fun little attractions. I have to say, they all seem better than they are. While I found many of these attractions fun for the kids, I would never put my money towards them if they weren't included. Don't expect much is basically what I'm saying. We wasted a good hour in the arcade and the kids loved it, but with $100 worth of credits, the only prize my kids got at the end were three small candies, even with thousands of earned tickets. If you plan ahead, you can get something like the Clifton Hill fun pass or the Wonder Pass. These will save you money over paying for each attraction individually.
Savings: $25+
Getting Around
Driving is fine to get around in Niagara Falls, but know that parking is very steep. Most hotels cost $25 to park there, but they usually also offer off-site parking for less. Get one person to drop everyone and the luggage off and then park farther away. It is worth it. The same goes for when going to attractions. To park at the Falls, it is at least $15 (seems to change with the season), but if you can park farther away, you can get away with as low as $5. Sometimes the group deals and passes come with WeGo passes, which is the transit system just for the tourists around Niagara Falls. The only downside is that the buses don't seem to run that often and the waits can be really annoying. You can also buy WeGo passes, and if you aren't willing to pay for parking, they can  be worth it. Another option is to walk everywhere, but the Falls area is pretty hilly, so wear good shoes!
Savings: $10 - $25
Waterparks
Niagara Falls has a few waterparks and I'm proud to say I've been to all of them. Each has their own uniqueness, but I have to say my favourite and the best value is Great Wolf Lodge. Because only hotel guests can use the waterpark, Great Wolf Lodge is really never that crowded and I've been there when the hotel was sold out over Christmas break. There are also quite a few other things to do at the hotel, although there is also an additional cost, so be aware that you might spend more money, even if you don't leave the hotel. The restaurant there offers a buffet for breakfast, lunch and dinner and while I found it pricey, it is cheaper than going out to the Falls to eat (as I found out the hard way). As I said above, bring any food that you can from home and save some money. We also been to Waves, which is a much smaller waterpark, and while fun, I think it is best for parents with babies and not older children. They also let in people from other hotels, including daycares and school groups, and the cost of a hotel room with an included waterpark pass is not that much cheaper than Great Wolf Lodge. The Fallsview waterpark is what I would call, the worst deal. It gets insanely crowded because anyone can attend and it is $50 a person to get in, aged three and up. You can get passes from Costco, which are only $28 a person, and so much better of a deal, but don't plan on getting them anywhere near Niagara, because they won't have them in the store. You can order online and print at home though. You can also get hotel deals for the Fallsview, but the deals I found were still quite expensive and not worth it in my opinion.
Savings $50+
Bargainmoosers, what do you like to do in Niagara Falls and how do you save money when visiting there?
Photo credit: Adrian MB